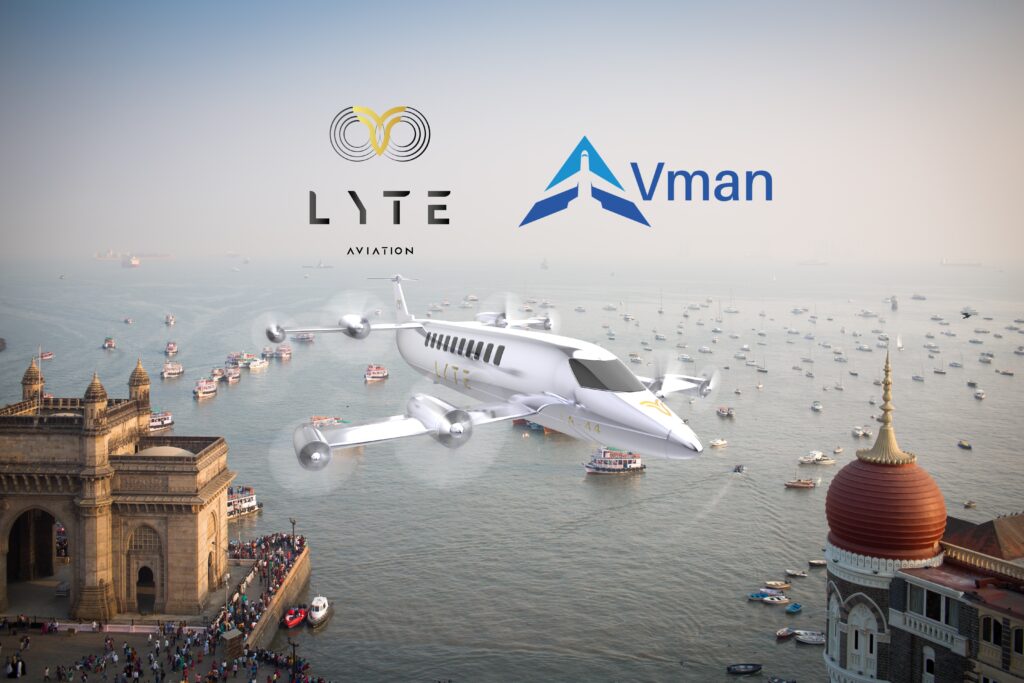 LYTE Aviation is planning to enter Indian market with its 40 seater eVTOL, Skybus, and has received a pre-order for 10 aircraft from Vman Aviation Services worth €400m.
Last year, Vman purchased 10 Light Utility Helicopters (LUH) and sub leased two ATR 72-600s, and now they are actively looking into future business opportunities with LYTE.
"We see the value of eVTOLs in India, but so far the 2-4 seater eVTOLs were not really filling the market demand that we are focused on. When we were introduced to the 40 seater eVTOL by LYTE Aviation, we immediately connected the pain points of our region with the benefits that their SkyBus offer. We want to make sure that we are the frontrunners of mass transit disruption in India, as it is inevitably coming," said Vishok Mansingh, Vman CEO.
"By the time the SkyBus is ready to deliver around 2027/28, we want to be one of the first ones that access this mass market in India. Only in Mumbai, there are 1.5 million passengers traveling by train. So, we definitely see the value that LYTE's 40 seater eVTOL will create for our markets that we have access to," he added. 
LYTE Aviation offers the passenger version, the SkyBus and its cargo variant, the SkyTruck which has a 4.5 tonne payload capability. A "giant" drone that can deliver passengers and cargo from point to point. The LA-44 SkyBus and complementary LA-44C SkyTruck are the accumulation of three years' R&D. The result is a game-changing, vertical take-off and landing vehicle, designed to be five times more fuel efficient and less noisier than current helicopters.
Freshta Farzam, Founder & CEO of LYTE Aviation, explained; "When we started working on our use cases, we knew that India is one of our main target markets. If you consider the ever growing congested roads, due to ever growing population, ever growing demand for passenger mobility and goods, especially in the mega cities, it is a great place to offer point-to-point movement of passengers in masses. India, a country that carries more than 1/7th of the entire global population, offers the required advanced technology and infrastructure to be in the forefront of advanced urban and regional aviation. Our 40 seater eVTOL comes without reliance on runways, we will mostly require a landing pad of 40m x 40m."
Freshta continued; "Furthermore, the LA-44 would be honed for operation in other rugged operational conditions and in the absence of ground infrastructure also in remote areas. Its unique design will enable us to tap mass transport capabilities, displacing air transport and land transport modalities such as buses, trains, ferries, trucks and regional airlines like it has never been done before."
Freshta added; "Since our announcement of our 40 seater eVTOL this year, we have been approached by several companies that have shown interest in partnerships and pre-orders. We are currently in talks with very interesting markets, but when Vishok came with his vision for the Indian market, that was very impressive, yet, with a very feasible and solution-oriented approach that matches LYTE's overall business strategies. I am looking for the right mindsets in partners, and Vishok also shows courage, genius and glowing eyes for his company with a very clear strategy. We are both looking in the same direction: traveling needs to become much faster and easier, especially in India's congested mega cities. Our SkyBus is 6x faster compared to a bus on the ground, and much more flexible to land anywhere compared to a plane."