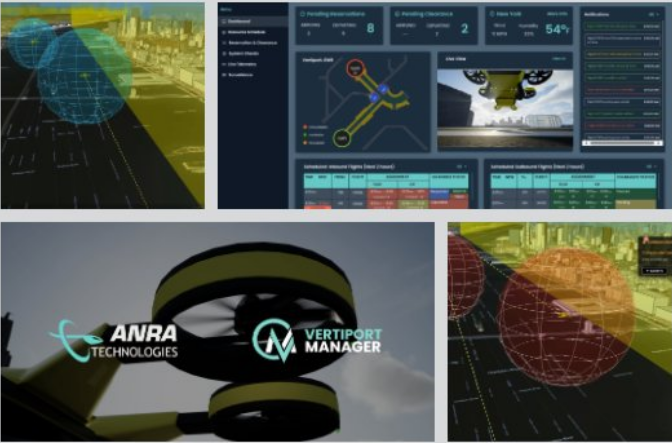 ANRA Technologies has unveiled its Vertiport Management System (VMS) at the Dubai Airshow. 
According to ANRA, this groundbreaking platform marks a significant milestone in managing Vertical Takeoff and Landing (VTOL) Urban Air Mobility (UAM) aircraft operations at vertiport facilities.
As the UAM landscape evolves, ANRA addresses a critical digital technology gap with the launch of VMS, a versatile, web-based software platform designed to adapt to various aircraft, vertiports, and locations. With VTOL aircraft gaining autonomy, the demand for services to ensure safe and efficient vertiport operations is rapidly increasing. VMS plays a pivotal role by intelligently exchanging real-time data with all the necessary services to facilitate the safe arrival and departure of UAM aircraft.
"While many vertiport providers are busy building the physical infrastructure and conceptualizing the passenger experience, ANRA has developed the digital layer," said Amit Ganjoo, Founder and CEO of ANRA Technologies. "VMS facilitates intelligent operational and safety decisions by seamlessly connecting with various systems at the vertiport, aircraft, and the broader AAM ecosystem."
The VMS microservice architecture allows it to support multiple vertiport designs, is aircraft agnostic, and integrates with current commercial air traffic management (ATM) systems. Using ANRA's airspace management services, UAM operators can now efficiently plan and execute their flight operations from pad to pad, supported by a comprehensive suite of services, including:
Real-time vertiport resource status and reservation requests.
Resource schedule for vertiport resource availability.
Reservation and clearance requests for inbound and outbound flights.
System checks to verify status of outbound flights.
Live telemetry for monitoring aircraft data of inbound and outbound flights.
Micro weather services.
Live surveillance data for nearby aircraft.
Integration with broader UAM traffic management systems.
ANRA is exhibiting at the Dubai Airshow from November 13-17 2023, booth number 75.