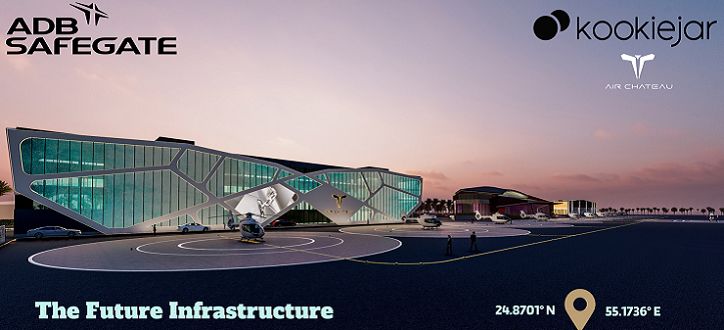 Kookiejar and ADB SAFEGATE have partnered to co-develop the next generation of vertiports, with the first to be built in Dubai South at Air Chateau heliport.
The cooperation will enhance aviation safety, efficiency, and sustainability, building valid infrastructure for VTOL aircraft.
This collaboration merges Kookiejar's innovative vertiport development vision with ADB SAFEGATE's technological expertise in airport solutions.
"We are thrilled to be joining forces with ADB SAFEGATE to take our vertiports to the next level. Their world-class airfield solutions and global presence empower us to create vertiports that redefine safety and efficiency standards, addressing the complex demands of urban aviation." said Kim Silander, Founder of Kookiejar.
"Kookiejar's innovative vertiport approach perfectly aligns with our mission to deliver best-in-class airport solutions. The Middle East, with its challenging environmental conditions, is a crucial market for us. We are proud to test our technology for the Middle East's inaugural vertiport," added Fredrik Johansson, Business Development & Strategic Projects at ADB SAFEGATE.
According to ADB, the partnership represents a significant step forward for AAM infrastructure, setting the stage for the next generation of vertiports that will reshape how people move within urban landscapes. Infrastructure is said to be key to enable VTOL manufacturers to scale up their business once they pass certification.
During the Dubai Airshow, 13-17 November 2023, more announcements are set to be made.