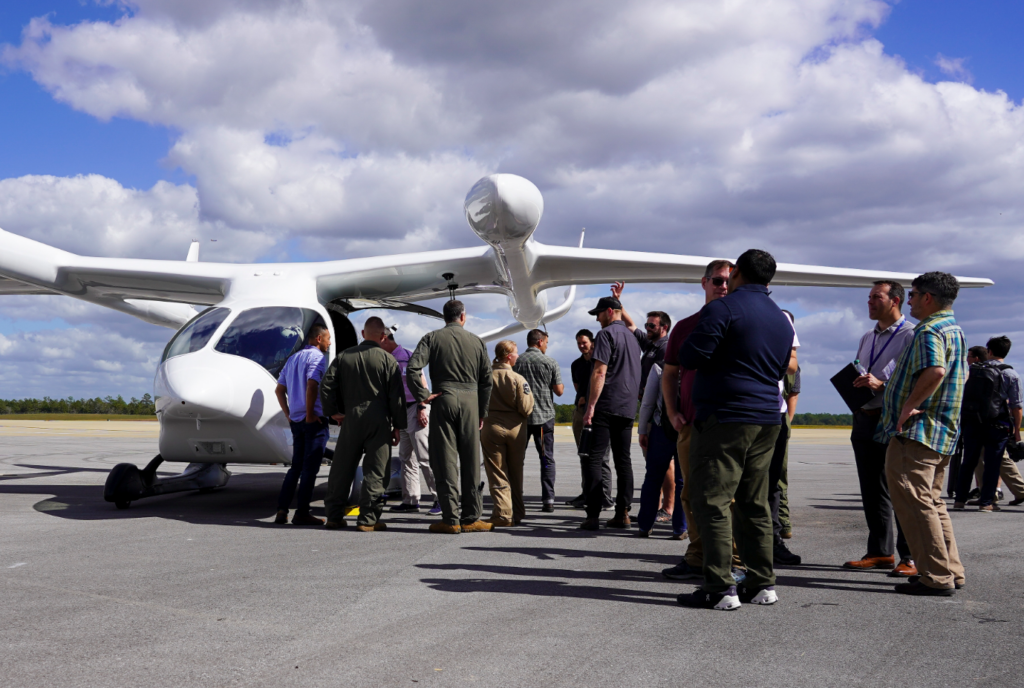 BETA Technologies' ALIA eVTOL has arrived at Eglin Air Force Base (AFB) to begin a series of test flights.
AFWERX Airmen and local media outlets gathered at Duke Field on Eglin AFB, Florida, to witness a flyover, with BETA making several low passes as the audience celebrated its delivery.
BETA's ALIA electric aircraft has a 50-foot wingspan, a range of 250 miles with a top speed of 138mph and is 90% quieter than a helicopter. While ALIA has the capability to transport five passengers, the Air Force test objective is to demonstrate its potential to support agile combat employment logistics with its payload capacity of 1,000 pounds.
Located 10 miles north of Eglin Air Force Base, Duke Field was strategically selected as the test field for ALIA. The field is home to the Air Force's rotary wing test squadron, the 413th Flight Test Squadron.
"We are really excited about companies like BETA when they invent things like this," said Col. Elliott Leigh, AFWERX director and chief commercialization officer for the Department of the Air Force. "It is going to transform the way we see air travel in the world, but it is also going to transform the way we have air power in the Air Force. We're going to learn what we can do with vehicles like this and we're going to take it to our warfighters."
"All of the testing will be contractor owned and operated, but the 413th FLTS wrote the test and safety plan," said Maj. Riley Livermore, 413th Flight Test Squadron flight commander. "We are responsible for coordinating daily flight operations to include range scheduling and logistics support. Then we'll write a report following the conclusion of the test deployment to report our findings."
AFWERX first partnered with BETA in December 2019 and has since awarded the company several contracts. Over the years, BETA has provided AFWERX with three simulators, including a mobile simulator that has conducted pilot training and demonstrations and two Level-3 electric chargers. The charger at Duke Field was completed October 16th and is the first charging station on a military installation.
"Part of the testing process was to install an aircraft charger on a military installation to capture lessons learned and hopefully inform and accelerate future projects at different bases," Livermore added. "The fixed charging station will also help us write procedures and safety requirements for the Air Force. They're currently not defined because the technology is new."
The first ALIA flight test is tentatively scheduled for November 7th, 2023.