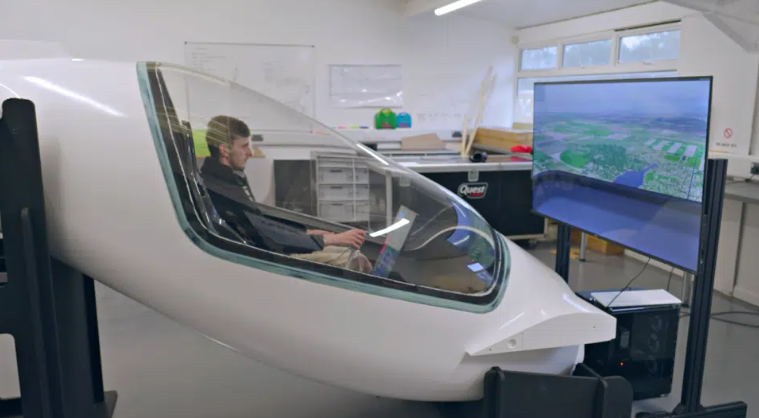 Skyfly's Axe eVTOL flight simulator has gone live, allowing test pilots to assess and fine tune the Axe's control systems and conduct familiarization flights ahead of the first manned test flights, which are planned for the first quarter of 2024.
The simulator uses many of the same systems as the real Axe eVTOL, including the Axe's quadruple-redundant and flight-proven Veronte 4X flight controller made by Embention in Spain. According to Skyfly, it has been fine-tuned using real world data from hundreds of hours of test flying by the Axe unmanned prototype, ensuring it closely mimics behavior and flight characteristics.
Michael Thompson, Skyfly CEO, said; "This is the result of a lot of hard work that has been going on over the summer, and it's an important milestone before we start manned test flights. This isn't just a flight simulator; it's the product of all the data collected over the past few years of test flying our prototype. This simulator is as close as you can get to the real thing. All the inertias have been set up to replicate the real aircraft, all the wing areas and aerofoil sections are exactly the same as the real thing, as well as the power, the propeller design and the overall weight, so it gives us a really good feel for the performance and handling of the aircraft. It shows just how easy it is to fly the Axe, and that is thanks to our obsessive focus on simplicity."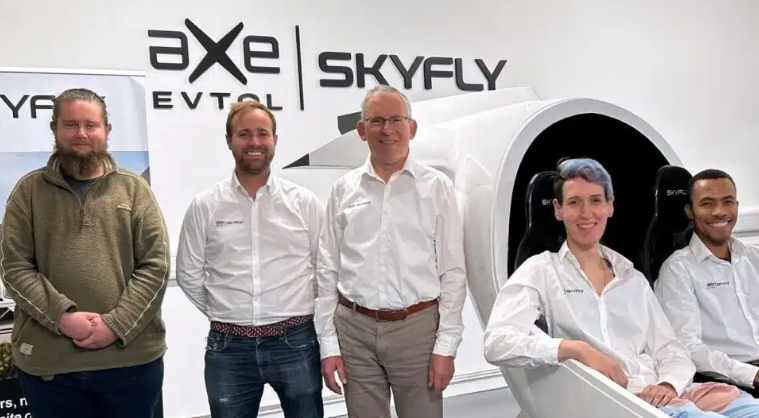 Skyfly has been adding to its team of engineers ahead of the first manned flights, which now totals five full time employees and four contractors. The latest additions to the team are Rob Martin, David Barden, Seb Smith and Devan Rudolph.
Skyfly's engineering team has recently been completing static testing of the HPD50 motor and rotor assembly in order to verify performance of the motors, fine tune the pitch of the propeller assembly and to simulate the duty cycle that the aircraft will endure on a daily basis.
Seb Smith, Skyfly's Head of Electrical Engineering, said; "The test rig we have developed allows us to measure the thrust and twisting torque produced by the motor, and along with data logging from the batteries and speed controllers to give us a whole suite of data we can use to analyse performance. Most importantly, we have tested the motor to full power and verified that the Axe produces more than enough thrust to take off at full payload. Next up, we will simulate a variety of duty cycles for the aircraft on the test rig to verify reliability, power usage and flight operating times."
Jaap Rademaker, Skyfly COO, added; "The Axe eVTOL depends on three things: the hardware, the software and our brilliant Skyfly design and engineering team. We are not inventing the wheel wherever possible, but instead we are buying best-in-class, certified components such as flight controllers from Embention in Spain, and electric motors we are co-developing with Geiger in Germany. Those components, our wing and fuselage molds and tooling, and our flight-tested prototype account for the hardware. With our simulator, we have now developed and built the software. And with our now nine engineers, we are at full battle strength steaming towards manned test flights, only a couple of months away now, bringing the excitement and buzz within the team to fever pitch. Following months of loads of analysis, driven by airworthiness requirements and CFD studies, and finite element analysis of the overall structure, we now have flurries of parts for our first manned Axe eVTOL arriving and are seeing the eVTOL come together in front of us. The excitement is palpable."