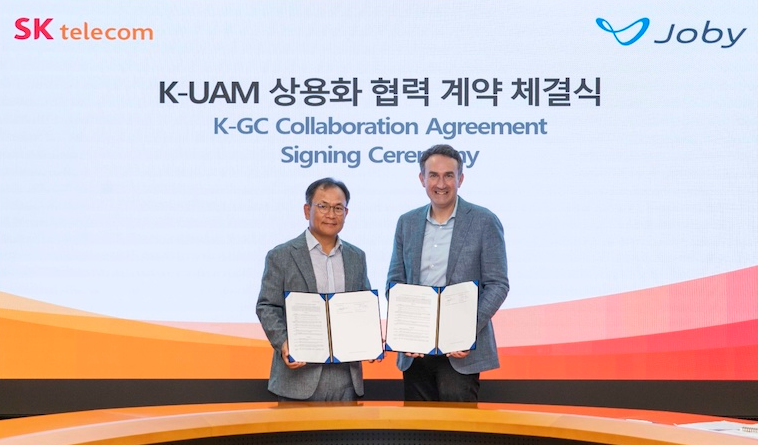 SK Telecom and Joby Aviation have entered into a collaboration agreement for joint participation in the K-UAM Grand Challenge.
The two companies will combine their expertise and resources to undertake flight testing that is designed to support the development of the Urban Air Mobility (UAM) sector in Korea.
K-UAM Grand Challenge is a large-scale demonstration program launched by the Korean Ministry of Land, Infrastructure and Transport (MOLIT) to test the safety and suitability of UAM in an urban environment and to support the commercialization of UAM by 2025.
SKT and Joby are part of the K-UAM Dream Team Consortium, which announced its intent to participate in the K-UAM Grand Challenge in February 2023, signing a Memorandum of Understanding (MoU) with MOLIT. The consortium includes a wide range of world-class partners, including Korea Airports Corporation, Hanwha Systems and T Map Mobility.
The first phase of the Grand Challenge program will take place at a national flight site in Goheung, Jeollanam-do. SKT and Joby Aviation plan to use Joby's aircraft to conduct flight tests in various scenarios to check the integrated operation of the UAM system, and measure the aircraft's acoustic footprint. Joby will dispatch a flight test team to Korea to support the testing.
The announcement, which follows SKT's strategic investment of $100 million in Joby Aviation in June 2023, secures the exclusive use of Joby's aircraft for the Grand Challenge. With Grand Challenge test flights expected to start next year, this is a critical step for the consortium and ensures SKT is well placed to become a market-leader in this important new sector.
Joby Aviation continues to lead the way on certifying eVTOL aircraft with the FAA. It became the first eVTOL company to complete both the first and second stages of the certification process and have also completed the submission of stage three certification plans to the FAA. Joby celebrated the launch of production at its pilot production line in Marina, CA, in June and announced this week that it has selected Dayton, Ohio as the location for its first scaled manufacturing facility.
Going forward, SKT will align the UAM business with its vision of becoming an AI company and plans to accelerate AI transformation of the mobility field through UAM. AI has the potential to play a transformative role in the aviation sector, minimizing travel times and supporting autonomous flight in the future.
"This agreement marks a critical step on the road to making aerial ridesharing a daily reality in Korea. We're incredibly proud to be partnering with SK Telecom to deliver flights as part of the Grand Challenge and look forward to demonstrating our revolutionary technology. We're grateful for the continued leadership of the Korean Government as they seek to lead the way on the adoption of electric flight," said Eric Allison, Head of Product at Joby Aviation.
"Through this collaboration agreement, we will work closely with Joby Aviation to bring the world's most sophisticated aircraft to Korea and verify our capabilities for stable and safe UAM operations," added Ha Min-yong, Chief Development Officer of SKT. "Going forward, we will open an era of 'AI Mobility' by shifting the paradigm of mobility through the combination of UAM and AI."