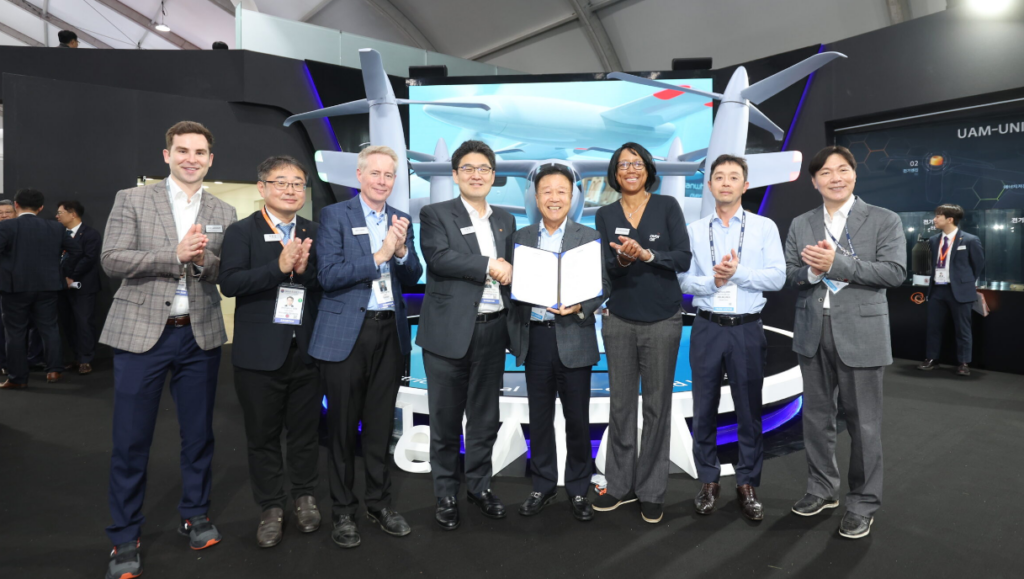 Overair and its strategic partner, Hanwha Systems, have signed a Letter of Intent (LoI) and two Memorandum of Understandings (MoU) with Korean partners to accelerate AAM in the region.
These agreements were signed jointly during public ceremonies at last week's Seoul International Aerospace and Defense Exhibition (ADEX), attended by defense officials from more than 57 countries. This news follows the company's recently announced MoU between Overair, Jeju Island, and Hanwha to bring an AAM ecosystem to the South Korean region.
"Overair is committed to supporting South Korea's strong AAM ambitions through partnerships like these that ensure all facets of the ecosystem are considered. Local governments, operators, and infrastructure providers will play an integral role as we enter this new era of transportation," said Overair CEO Ben Tigner. "We look forward to collaborating with our partners at Hanwha Systems on these exciting new projects, which will bring real benefits to the communities they impact and provide a solid foundation to further AAM adoption across Southeast Asia."
An LoI for the purchase of 20 Butterfly aircraft was signed with HeliKorea, a leading air transportation company for Korea's helicopter industry. The aircraft will integrate seamlessly into HeliKorea's current business model and will be used for medical, executive, and cargo transport, as well as firefighting, high-voltage power line inspection, and other applications. Overair will also provide pilot and maintenance training.
Overair's MoU with South Korean construction convergence innovator Daewoo E&C establishes a plan to jointly develop a series of AAM networks across East South Asian markets. The companies will develop and implement a concept of operations (CONOPS), select local operators and vertiport sites, establish urban air traffic management (UATM) systems, and engage with local aviation and government authorities to create a viable regulatory framework for AAM operations. Daewoo E&C will focus on vertiport establishment, while Overair will provide operational guidance and aircraft integration expertise.
Finally, an MoU with the Korean Police aims to integrate AAM within the agency. The Police Department's Human Resources Development Institute will focus on developing comprehensive training programs to support vertiport development and AAM deployment. Both Overair and the Police Human Resources Development Institute will collaborate on AAM operational training within the organization, which includes vertiport integration, pilot training, maintenance, community education, and more.
All of the agreements will leverage Hanwha Systems' expertise in UATM, software management systems, communication, navigation, surveillance, information hardware (CNSI equipment), and air travel infrastructure. Hanwha Systems will support each project with systems and operational support to ensure UATM certification and safe, efficient operation.
"Overair is a company with global ambitions. Announcing these agreements at Seoul ADEX 2023 not only shows the importance of these partnerships in Korea but also exemplifies our commitment to supporting all aspects of AAM worldwide," added Tigner.