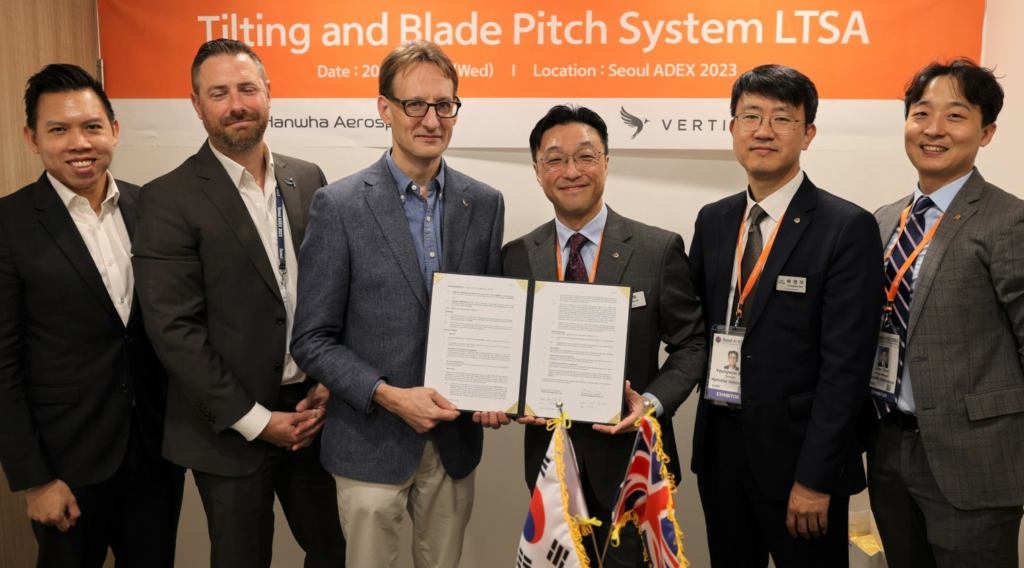 Hanwha Aerospace and Vertical Aerospace have signed an agreement to collaborate on the design, testing, manufacture, and supply of tilt and blade pitch control systems for Vertical's VX4 electric aircraft.
Following the signing of a contract with Vertical last year for the development of Electro-Mechanical Actuation (EMA), Hanwha and Vertical expanded the scope of the agreement during the Seoul International Aerospace & Defense Exhibition (ADEX 2023).
With the signing of the new agreement, Hanwha will now be responsible for all actuation systems of Vertical's VX4 four-passenger air taxi. The development of actuation systems includes the design and mass production of the propeller tilt and pitch change mechanisms, which are critical to the performance of the VX4.
"The strong relationship between the two companies has been firmly established by participating in the development of EMA and demonstration aircraft," said Jae-il Son, CEO and President of Hanwha Aerospace. "The expansion of our business with Vertical to include a top electric actuator system is excellent as Hanwha has been recognized for our competitiveness in system technology in the future mobility field."
"There has been an opportunity to cooperate with Hanwha in the development of our prototype VX4s that will continue through to the production aircraft; it started with the development of EMA, and now our partnership has deepened by expanding to critical aircraft mechanical systems," added Michael Cervenka, CTO of Vertical Aerospace.
Beginning with the development of the EMA for Vertical, Hanwha expanded its partnership to include the design of a Blade Pitch Mechanism for Vertical's second prototype air vehicle, and on that basis, it has expanded the scope of the joint development for the production air vehicle to include the blade pitch control system and the tilt system, both of which are inextricably linked to the development of the EMA.
For an eVTOL aircraft, the actuation and mechanical systems are critical, with the blade pitch control and tilt systems being critical components for stable flight controlled by the flight control system. Unlike conventional aircraft, applications of tilt systems in this new sector of eVTOL aircraft are innovative, hence this program requires a high level of innovation and R&D.
Vertical Aerospace's next VX4 prototype is now being assembled in the United Kingdom and will incorporate Hanwha's technology. In early 2024, the next demonstrator aircraft will fly in the United Kingdom.