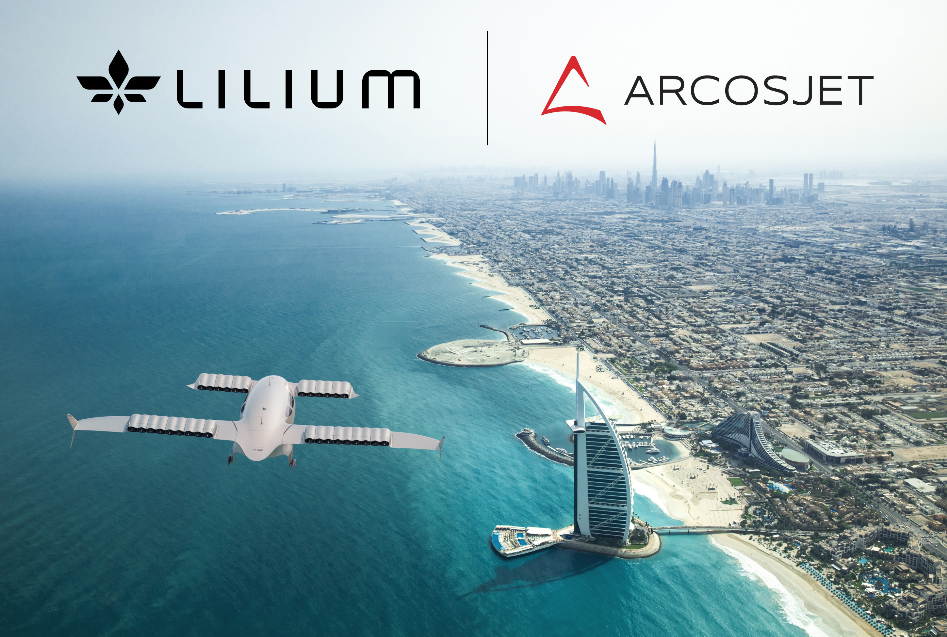 ArcosJet DMCC has been appointed as the exclusive authorized dealer for private sales of the Lilium Jet eVTOL in the United Arab Emirates (UAE), Israel, and the Republic of Cyprus.
The agreement includes a commitment fee payment to Lilium and grants ArcosJet exclusivity on private sales. With this agreement, ArcosJet becomes Lilium's first reseller in the Middle East and its fifth dealer globally.
ArcosJet and Lilium intend to jointly announce further details of their partnership at this year's Dubai Airshow, which is taking place from November 13th to November 17th. The companies also plan to jointly showcase the Lilium Jet at the event.
"At ArcosJet, we appreciate Lilium's mission as we see tremendous potential in the emerging eVTOL market, especially for jet-powered aircraft, and we are grateful that Lilium is partnering with us. We are sure that combining our experience in selling conventional aircraft with the economic and sociodemographic characteristics of UAE, Israel, and the Republic of Cyprus can result in the region becoming a leader in the sales and operation of the revolutionary Lilium Jet," commented Mikhail Alenkin, ArcosJet Founder and CEO.
Sebastien Borel, Chief Commercial Officer at Lilium, added; "The Middle East offers tremendous opportunity for eVTOLs and we are proud to add a reliable and experienced partner to sell and operate the Lilium Jet in the region. ArcosJet has an impressive portfolio of successful deals, profound knowledge within aircraft fleet management and a huge network of industry connections to help drive firm orders of our eVTOL jet. A new era of sustainable aviation is coming and we are proud to be blazing the trail here alongside our new partners who support our aspirations toward new technologies and markets."