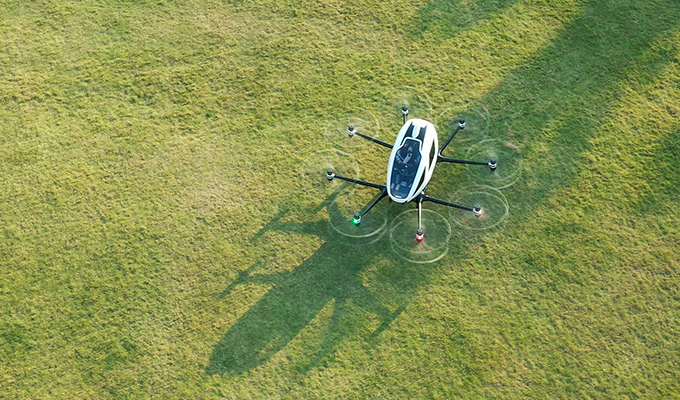 EHang has made a strategic investment in Shenzhen Inx Technology Co., Ltd. (Inx), a solid-state lithium metal battery technology company in China, and plans to cooperate with Inx on the research, development and production of solid-state lithium metal batteries for its Autonomous Aerial Vehicle (AAV) products.
This PreA+ funding round of Inx was led by GL Ventures, with the participation from Connected Intelligence Fund, Qilu Qianhai Fund, EHang, and its existing investor Fenghe Capital.
The funding will primarily be used for Inx's R&D on solid-state lithium metal battery technologies, market expansion, production and deliveries.
Dr. Lin Chen, Chairman and Head of Research & Development of Inx, said: "After over a decade experience of dedicated research and technological development, Inx's solid-state lithium metal batteries have now achieved extraordinary safety and high energy density features that will drive the industry forward in the clean electrification transition. The investment from renowned institutions like GL Ventures and clients like EHang reflects the high recognition of our technologies, team, and product commercialization. The entire Inx team remains committed to the vision of "propelling the energy revolution and improving human life" and we will strive for technological breakthroughs, product innovations, and create value for our customers."
Leo Sun, President of Inx, commented: "Our first-generation product with an energy density of 450Wh/kg based on 6Ah-50Ah cells has been recognized by customers. These products have obtained third-party certification reports and can be manufactured in mass production. Moving forward, Inx will closely collaborate with our strategic customers, leveraging the strengths of Inx's solid-state lithium metal batteries. This collaboration aims to significantly enhance the battery life and lightweight experience of OEM products, accelerating the market penetration of high-safety, high-energy-density batteries."
Huazhi Hu, Founder, Chairman and CEO of EHang, added: "As a global leader in the field of unmanned electric vertical take-off and landing (eVTOL) air mobility, EHang is always committed to safer, more efficient and sustainable energy solutions. The innovative solid-state lithium metal batteries developed by Inx have significant advantages over liquid batteries in terms of safety, energy density, thermal stability, cruising range, charging and discharging performance, etc., which are believed to become a key driver for the rapid development of the eVTOL field in the future. Our strategic investment in Inx aligns seamlessly with our pursuit for greener, low-carbon technologies, and is also part of EHang's efforts to deploy and enhance our upstream battery supply chain. We expect Inx will continuously lead the innovation in solid-state battery technology and create value for the energy transition and electric aviation field."