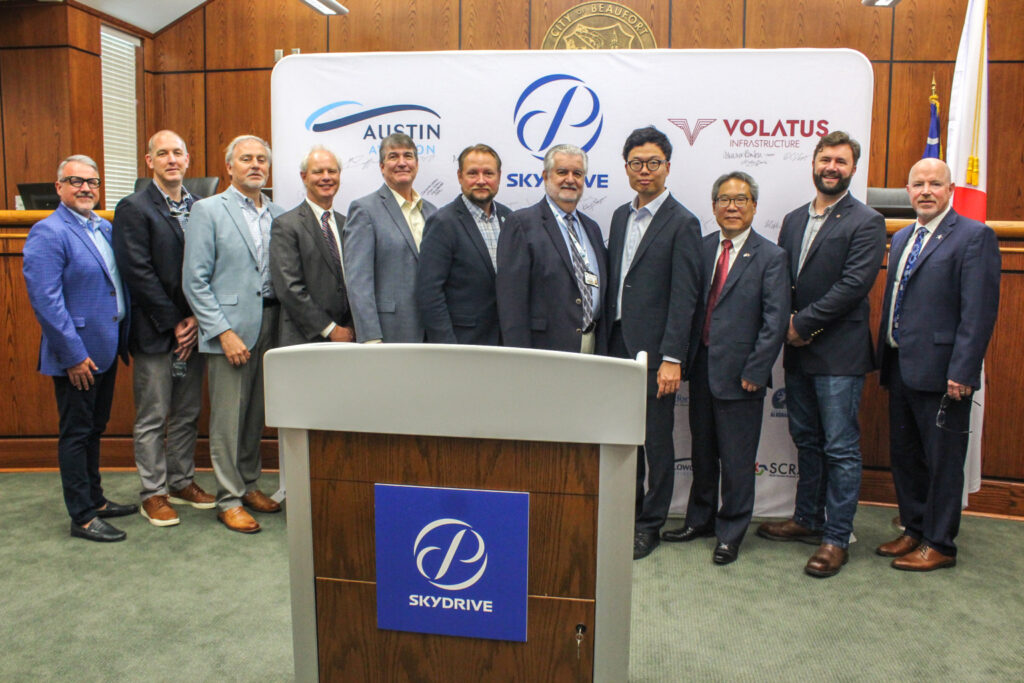 Japanese eVTOL aircraft manufacturer SkyDrive has received a pre-order to deliver five eVTOL aircraft to Austin Aviation.
In January 2023 at the annual VFS eVTOL Symposium in Mesa, Arizona, SkyDrive revealed plans to enter the US market and establish a home base in South Carolina. At the 2023 Paris Air Show, SkyDrive announced a new three-person manned configuration, named SkyDrive that utilizes its patented rotor dome design.
SkyDrive, along with its network of South Carolina Airports, customers, stakeholders and vendors, will create practical use cases originating from the state's major airports utilizing SkyDrive's eVTOL aircraft model.
SkyDrive and Volatus Infrastructure agreed to contribute to the creation of robust operational Advanced Air Mobility (AAM) infrastructure plan as part of their previously announced strategic alliance. In concert with South Carolina along with major airports and operators in the state, SkyDrive aims to commence commercial operations as soon as it has completed essential development milestones. Furthermore, Volatus will now expand its role by providing critical expertise as SkyDrive's infrastructure plan extends from South Carolina's airports to rural areas within the state.
While SkyDrive continues to develop its South Carolina footprint from its U.S. homebase in Beaufort, SC, the company will utilize LCA's existing facilities on an as-needed basis.
"We have received an overwhelming amount of support from local, regional and state organizations here in South Carolina to develop our technology and operations within the state. We are thrilled to be taking this next step of working more closely with all South Carolina stakeholders, with the ultimate aim of placing South Carolina at the forefront of the AAM infrastructure development in the U.S. and making our aircraft more widely accessible in the future," said Tomohiro Fukuzawa, Founder and CEO, SkyDrive.
Alex Cavazzoni, Austin Aviation President, said: "Sustainable electric propulsion vertical take-off and landing vehicles are the next new exciting challenge in General Aviation, following the early lead of the automotive industry with electric propulsion. With the SKYDRIVE vehicle and all South Carolina stakeholders, we look forward to being a part of this next exciting chapter in General Aviation, as this new pioneering electric technology matures into reality."
"We are honored to be included in the AAM vision for South Carolina and are excited to be working alongside SkyDrive to develop a statewide AAM infrastructure plan. We hope this sets the tone for the AAM industry in the U.S. and allows for greater advancement and accessibility," said Grant Fisk, Co-Founder, Volatus Infrastructure, LLC.
"Congratulations to SkyDrive on its alliances with Austin Aviation and Volatus. In choosing to base its U.S. operations in South Carolina, SkyDrive is capitalizing on the state's advanced and capable aerospace industry – as well as our supportive, dynamic business community – to further integrate this innovation into the market. We look forward to seeing the Skydrive eVTOL aircrafts take flight," said Harry M. Lightsey III, Secretary of Commerce at the State of South Carolina Department of Commerce.
"The City of Beaufort is proud to be the U.S. homebase for SkyDrive and we are excited to see their business take-off through continued partnerships with global and regional suppliers. The Lowcountry and South Carolina are poised to be a dominant player in the eVTOL and EV industry because of the hard work and resources made available by Team Beaufort and Team South Carolina," added Stephen Murray, Mayor, Beaufort City, South Carolina.