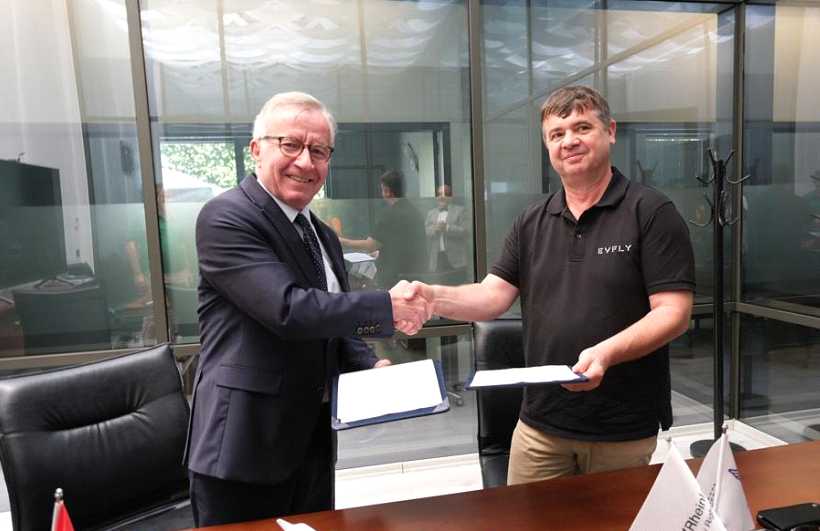 Ayjet Flight Training School has been selected as the preferred training partner for Evfly's electric aircraft fleet in the Middle East and Turkey.
As part of this strategic partnership, Ayjet will play a key role in developing and implementing tailored training programs for Evfly's eVTOL/eCTOL fleet, catering to the diverse needs of B2B and B2C customers. These programs will encompass pilot training, ground crew education, and specialized courses in Advanced Air Mobility (AAM) services.
"We are honored to join forces with Evfly to contribute to developments shaping the future of Advanced Air Mobility in which mostly eVTOL or eCTOL platforms will be utilized." said Capt. Celal CİNGÖZ, General Manager of Ayjet. "Through this exclusive partnership, Ayjet will empower pilots and ground crew members with the necessary skills and knowledge to operate and maintain Evfly's cutting-edge eVTOL and eCTOL aircraft fleet."
Ayjet will leverage its industry-leading facilities and experienced instructors to deliver comprehensive training programs. These programs will equip pilots and ground crew members with the expertise required to ensure safe and efficient operations in the dynamic field of AAM and Urban Air Mobility (UAM) which are the new subsets of aviation industry.
"We believe that this partnership will revolutionize the aviation industry by providing seamless and sustainable air transportation solutions," added Capt. Celal CİNGÖZ. "Together with Evfly, we are dedicated to delivering exceptional training experiences and meeting the evolving needs of our future customers."
According to Evfly, its range of services, including eVTOL/eCTOL fleet management, leasing, commercial operations, training, and education, and AAM services, aligns perfectly with Ayjet's vision of shaping a greener and more efficient future for aviation in Turkey and the Middle East.