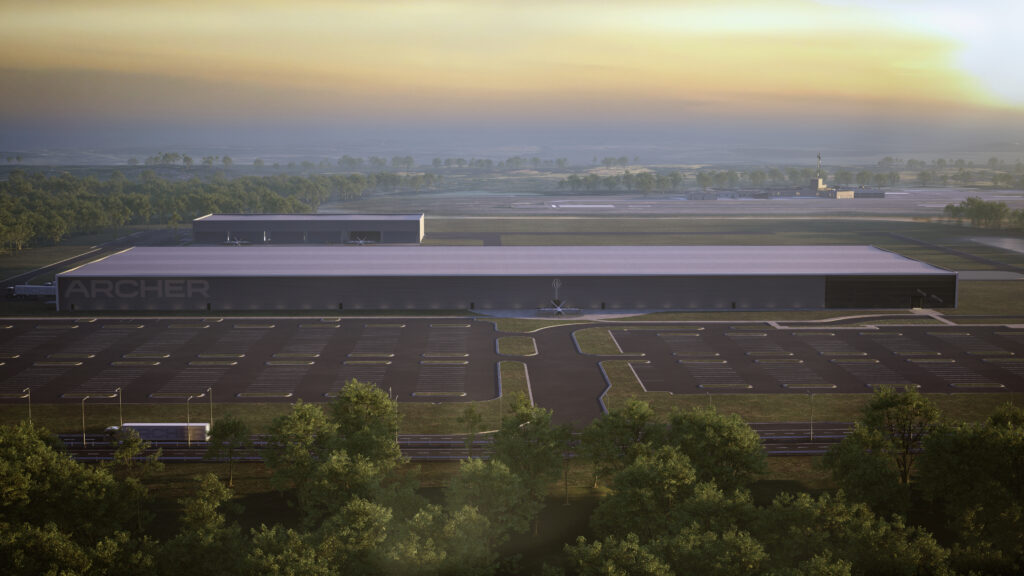 Archer Aviation and Stellantis have made progress in a strategic manufacturing partnership, revealed at the Paris Air Show 2023.
With construction now well underway on the world's first high-volume eVTOL aircraft manufacturing facility located on an approximately 100-acre campus in Covington, Georgia, Stellantis recently increased its strategic shareholding through a series of purchases of Archer stock in the open market.
"The Stellantis and Archer teams are moving full speed ahead in execution mode to ensure we meet our goal of bringing scalable manufacturing of Archer's aircraft online in mid-2024," said Stellantis CEO Carlos Tavares. "We believe this unique partnership is setting the standard for cross-industry collaboration and continues to be a key pillar of our strategy to ensure Stellantis leads the way the world moves, providing freedom of mobility in all ways. With our trusted teams onsite working shoulder-to-shoulder with Archer, I have no doubt that we are on the right path."
"At Archer, our goal is not just to get to commercialization, but to achieve it at scale. High-volume manufacturing is critical to ensuring we can meet this goal and joining forces with one of the leading mobility companies in the world is helping us realize the once-in-a-generation opportunity we have to redefine urban transportation," added Archer's Founder and CEO, Adam Goldstein. "I couldn't be prouder of what we've already accomplished with this partnership as we continue to lead the industry in building out manufacturing capabilities."
During the manufacturing ramp-up phase, the goal is to leverage each company's respective strengths to enable the rapid scaling of aircraft production to meet Archer's commercialization plans. As the two companies rapidly progress towards bringing this facility online in mid-2024, there are now Stellantis personnel working full time alongside the Archer team, supporting operational readiness with the current focus being on manufacturing automation and component sourcing. Stellantis personnel are now embedded across almost all areas of Archer's operations, including manufacturing, engineering, supply chain, quality, facilities and human resources.
According to Archer, initial manufacturing operations will be capable of producing up to 650 aircraft per year with room for expansion to support production of up to 2,300 aircraft per year. Manufacturing aircraft at these volumes would make this site the world's leading aircraft manufacturing facility by volume.