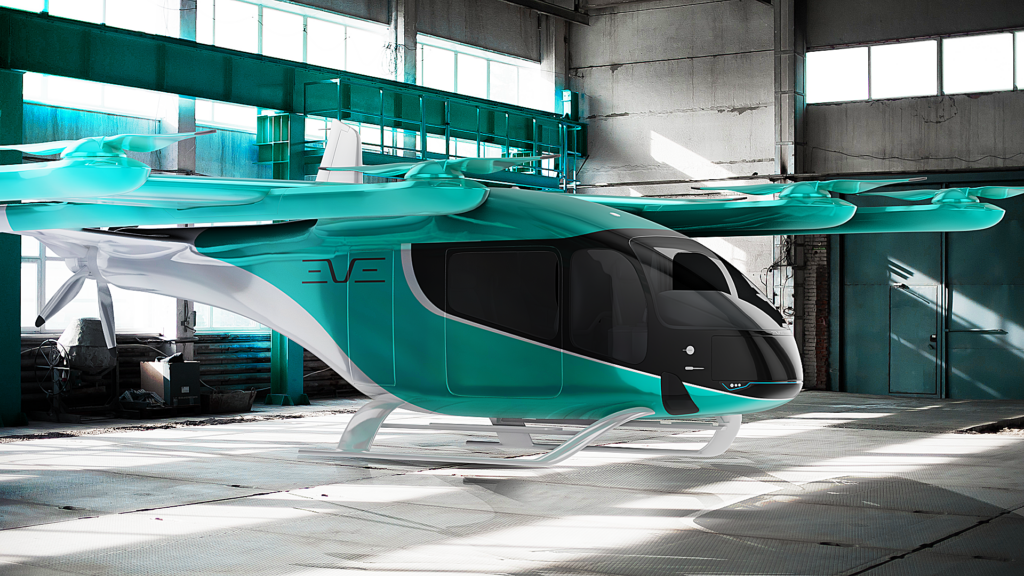 Eve Air Mobility has named Nidec Aerospace, BAE Systems and DUC Hélice Propellers as the first three suppliers for its electric vertical take-off and landing (eVTOL) aircraft.
Nidec Aerospace will provide the electric propulsion system, BAE will provide an advanced energy storage system and DUC Hélice will supply the eVTOL's rotors and propellers.
"The announcement of the first suppliers is a key milestone in developing our eVTOL aircraft," said Andre Stein, co-CEO of Eve Air Mobility. "As we advance toward entry into service, our goal is to make sure that we produce and deliver a mature aircraft that not only exceeds expectations but enables our customers to operate safely and efficiently with the lowest cost of operation."
Nidec Aerospace, a joint venture between Japan's Nidec Corporation and Brazil's Embraer, will develop the electric propulsion system for Eve's eVTOL. "We are excited to have Eve as our launch customer for Nidec Aerospace's new electric propulsion system," said Michael Briggs, Senior Vice President and President of the Motion & Energy Business Unit at Nidec. "With our cutting-edge technologies, Nidec Aerospace and Eve together are well-positioned to drive and accelerate advances in electrified urban air mobility towards a more sustainable future."
BAE's energy storage system will be integrated into Eve's eVTOL and will allow the aircraft to efficiently operate with zero emissions and low noise. "BAE Systems is leading the development of advanced technology solutions and systems that will help create a more sustainable future in aviation," commented Ehtisham Siddiqui, Vice President and General Manager of Controls and Avionics Solutions at BAE Systems. "We are delighted to support Eve Air Mobility with our innovative energy storage system for their eVTOL aircraft."
DUC Hélice Propellers will supply the rotors for the eight lift motors and the cruise propeller. "We are extremely honored to have been selected by Eve Air Mobility as the supplier of the rotors for the eight lift motors and the cruise propeller for their production vehicle," said Duqueine Vincent, President and Founder of DUC Hélices Propellers. "This recognition is a testimony to experience and expertise in the analysis, design, development, manufacture, and maintenance of carbon composite propellers, rotors, fans, and other aeronautical accessories. We are grateful to Eve for putting their trust in us."
"Eve has taken a 'building blocks' approach to further enhance the maturity of the technology and its eVTOL," added Alice Altissimo, Vice President of Program Management and Operation of Eve. "We continue to make very good progress and we are looking forward to working with these new suppliers as we accelerate the world's transition to sustainable air travel."
According to Eve, it will name additional component suppliers including flight-control systems, avionics, airframe and power-management systems in the future.
The company also plans to start the assembly of its first full-scale eVTOL prototype during the second half of 2023, followed by the test campaign in 2024. Eve's eVTOL is scheduled to begin deliveries and enter service in 2026.