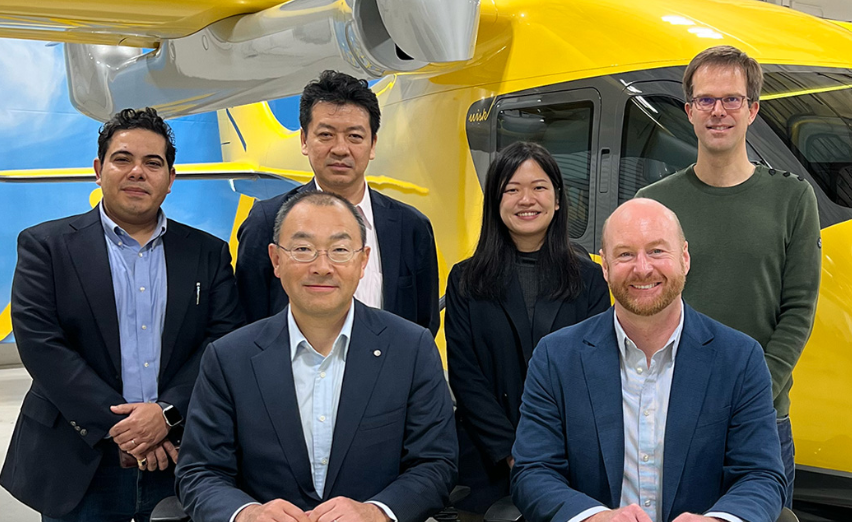 Advanced Air Mobility (AAM) company Wisk Aero and Japan Airlines (JAL) are partnering to bring Wisk's self-flying, all-electric air taxi services to Japan.
In addition, Wisk and JAL Engineering (JALEC), will work closely together to develop plans for the maintenance and operation of Wisk's autonomous air taxis.
A Memorandum of Understanding (MoU) has been signed that establishes a framework for collaboration between the two companies, as well as the Japanese Civil Aviation Bureau (JCAB), and other relevant Japanese Government agencies. This will include careful consideration of regulatory requirements, safety measures, and how the community can benefit from advanced air mobility through the use of Wisk's 6th Generation self-flying, electric vertical take-off and landing (eVTOL) aircraft.
Specifically, the MoU establishes a framework for:
Research towards launching fleet operations for Wisk's 6th Generation taxi, including: type certification approval in Japan and maintenance, repair and overhaul requirements
Supporting discussion with the Japanese Civil Aviation Bureau (JCAB) and relevant Japanese Government agencies, as appropriate, on the establishment of a Wisk operation under an Air Operators Certificate in Japan in the future
Development of a path to a demonstration flight in Japan
Introduction of autonomous aircraft into the Japanese national airspace system
"We are excited to be partnering with Japan Airlines, a highly-respected leader in aviation both in Japan and globally," said Brian Yutko, CEO of Wisk. "Wisk and Japan Airlines share a commitment to safe, accessible transportation and to ensuring that our services provide long-term benefit to the communities that we serve. We look forward to working together to bring autonomous everyday flight to Japan and to further advancing Advanced Air Mobility in the broader APAC region."
"We are very honored to partner with Wisk, a pioneer in autonomous eVTOL aircraft development. In Japan, the introduction of autonomous air travel is developing and we strongly feel that this partnership with Wisk is the first step towards the development of the next generation of safe air mobility in Japan," commented Ryo Tamura, CEO of JALEC.
"We are thrilled to be announcing this new partnership with Japan Airlines, a partner that so closely shares our values," added Catherine MacGowan, Wisk's APAC Regional Director. "Japan represents a large, densely populated market where air taxi services can provide real, positive impact for local communities. We look forward to further pursuing the potential introduction of our self-flying, all-electric air taxis in Japan, and are encouraged by the growing interest within the broader APAC region for these types of services."
According to Wisk, the company shares a commitment with Japan Airlines to safety, sustainability, and responsibility. This partnership represents the joining of these shared values to develop an enduring approach to the introduction of future autonomous air taxi operations that are part of the future integrated transportation layer in Japan.