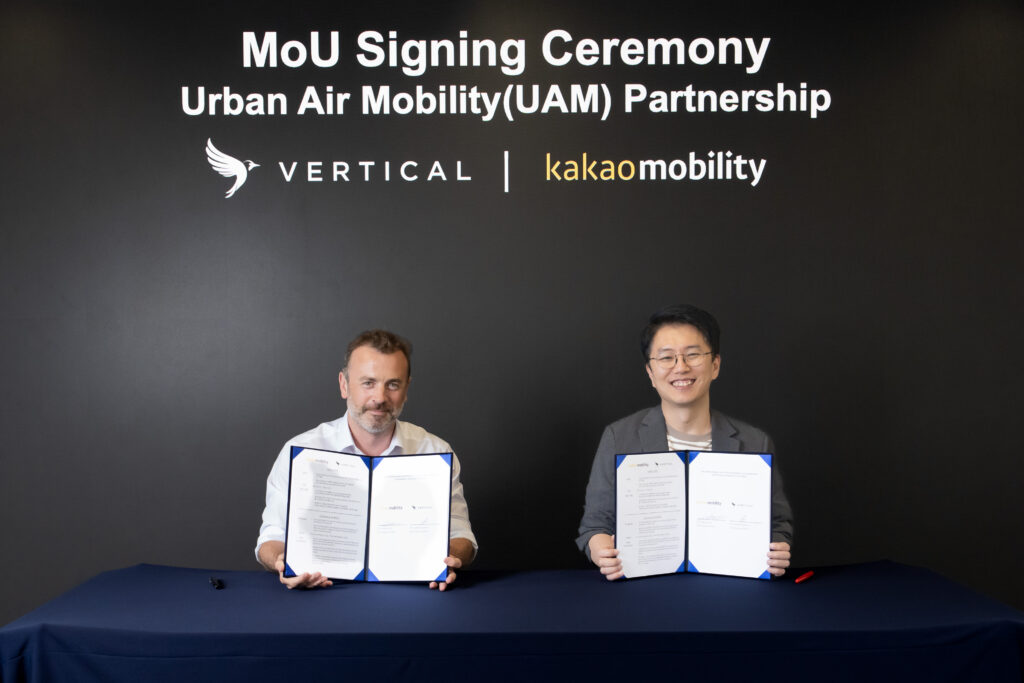 Vertical Aerospace has received a pre-order for up to 50 VX4 eVTOL aircraft from South Korean mobility technology company Kakao Mobility, adding the country to Vertical's list of customer launch markets.
Vertical and Kakao Mobility will establish a Joint Working Group (JWG) to drive the commercialization of Advanced Air Mobility (AAM) services in South Korea, including the exploration of network and fleet planning, infrastructure requirements, regulatory development, and consumer awareness of eVTOL mobility solutions.
The JWG builds on Vertical's existing consortium partnership with Kakao Mobility, LG Uplus, GS E&C, and the continued engagement with Korea's Ministry of Land, Infrastructure and Transport, for the K-UAM Grand Challenge (K-UAM GC).
The agreement with Kakao Mobility marks Vertical's first partnership with a mobility technology company, enabling Vertical to leverage their existing customer base and vehicle network to create a seamless air-to-ground passenger journey and UAM ecosystem in the country.
Stephen Fitzpatrick, Vertical's Founder and CEO, said: "We are delighted to be partnering with Kakao Mobility. With its over 30 million registered users, Kakao Mobility is the go-to choice to 'hail a ride' and with our partnership, we look forward to people across South Korea being able to fly in a VX4 in the years to come. We are thrilled to be working together to make our joint vision a reality'."
Alex Ryu, CEO of Kakao Mobility, commented: "Kakao Mobility is the leading mobility platform and in an AI-enabled world with needs for faster, eco-friendly means of moving, we understand that UAM will be a game-changer in the near future. We are excited to take part in Vertical Aerospace's mission to launch its VX4 globally and to bring an UAM service to Korean market. We will be expanding our business not only on the ground but to the sky through this partnership. As a consolidated mobility platform, Kakao Mobility will develop the "De Facto Standard" for UAM services. We look forward to collaborating closely to complete the K-UAM Grand Challenge successfully and into commercialization shortly after K-UAM GC."
Vertical already has strong ties to South Korea with Hanwha, a key partner for the VX4 certification aircraft. Vertical is leveraging Hanwha's four decades of industrial expertise to collaborate on the development and supply of actuator systems for the VX4.