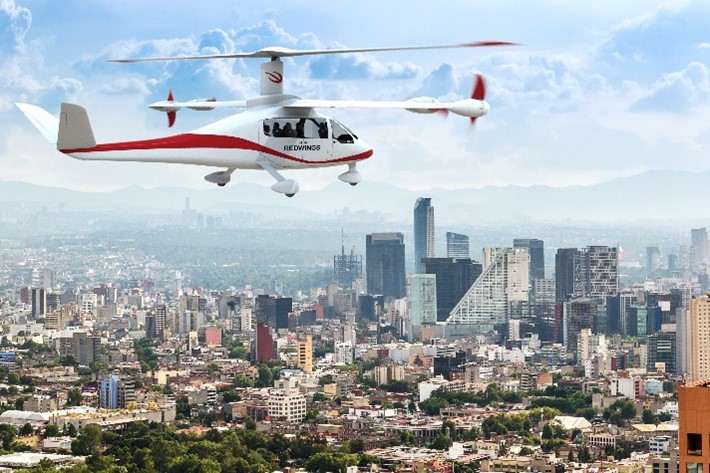 Redwings has signed a non-binding Letter of Intent (LoI) with Jaunt Air Mobility to purchase eVTOL aircraft and launch a strategic collaboration in Mexico.
Jaunt plans to support Redwings in its launch of an air taxi service in urban markets beginning with Mexico City.
Under the agreement, Redwings intends to purchase ten Jaunt Journey aircraft with an option to purchase ten additional units.
"The elevation of Mexico City at 7,349 feet is higher than Denver, Colorado, and presents challenges for many VTOL aircraft operating at this altitude," said Bernardo Moreno, President of Redwings. "The Journey's highly efficient vertical flight capability enables this aircraft to operate at altitude with no performance limitations."
"We are excited to work with an outstanding team at Redwings to bring urban air mobility to cities in Mexico," added Simon Briceno, Chief Commercial Officer for Jaunt. "Our Jaunt Journey's exceptional main rotor technology with low rotor disc loading and tip speeds will provide Redwings with high efficiencies in vertical flight at high altitudes."
Redwings operates a fleet of aircraft and helicopters throughout the Americas and Europe, and it seeks a safe, low-carbon footprint, high-speed air transportation system for passengers and cargo.
"After researching many eVTOL aircraft, the Jaunt Journey offers the safest aircraft with low operational costs and, of course, the performance needed," added Moreno. "We will collaborate on operations, passenger experience, infrastructure, and market education."
Jaunt Air Mobility, headquartered in Dallas, Texas, is developing and certifying the Jaunt Journey in Canada. These piloted aircraft will provide an affordable mode of transit for four passengers to commute in and around urban areas. In addition, the Jaunt Journey aircraft will be able to transport cargo with its unique reconfigurable designed and be used for emergency services.
The Journey's patented Slowed-Rotor Compound technology offers a significant safety advantage allowing the aircraft to autorotate or glide to the ground in a controlled manner under a complete power loss. As an all-electric aircraft, the Journey will produce zero emissions and be extremely quiet.
"Jaunt now has customers throughout the Americas, Europe, and Asia. At the end of the day, we are highly confident in the Journey's operational capabilities and our path to certification," Briceno commented.