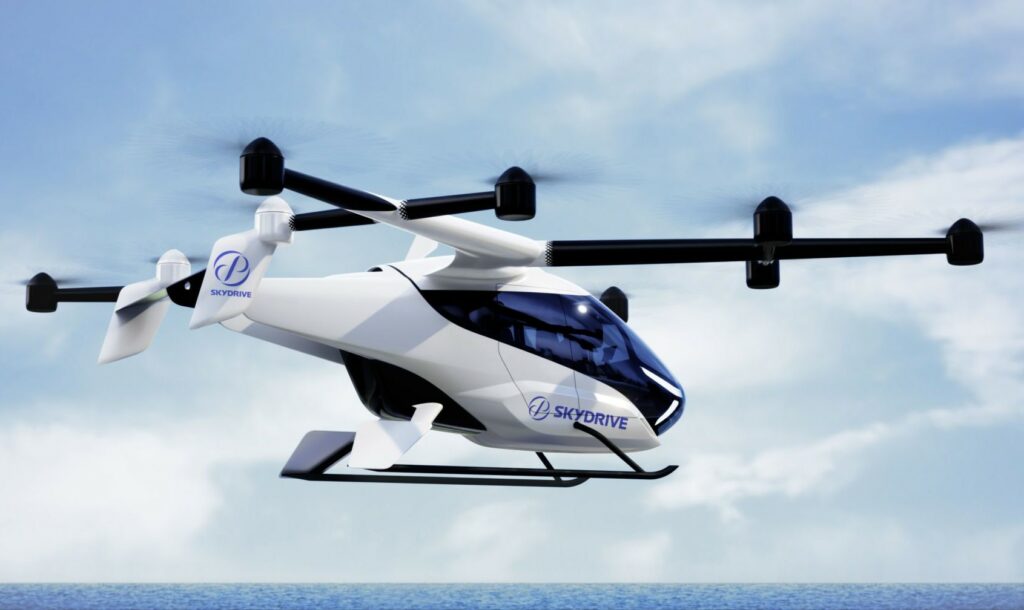 Japan-based eVTOL manufacturer SkyDrive has secured additional funding in its Series C round, with cumulative funding now exceeding 15 billion yen.
In September 2022, the company successfully raised 9.6 billion yen in Series C. MUFG Bank, Ltd., one of Japan's largest financial institutions, increased its capital and a target fund, including Murata Manufacturing Co., Ltd., newly invested in Series C.
SkyDrive Inc., raised a total of 9.6 billion yen in the Series C round of financing through a third-party allotment of new shares and bank loans to 13 companies including MUFG Bank, Ltd. This brought the company's cumulative total raised to approximately 14.7 billion yen.
With the mission of "taking the lead in the once-in-a-century mobility revolution," the company is developing flying cars, and cargo drones that are capable of transporting objects weighing 30kg in order to realize a future that utilizes the sky for everyday transportation.
With successful manned flight of Japan's first flying car in 2019, SkyDrive completed the Series B Round in September 2020. In order to enter into service, SkyDrive participated in the "Osaka Round Table for the Social Implementation of the Air Mobility Revolution" from the inception in November 2020, and signed a collaboration agreement with Osaka Prefecture and Osaka City for the realization of flying cars in September 2021.
In October 2021, Japan's first application for Type Certification of flying cars was accepted by the Ministry of Land, Infrastructure, Transport and Tourism (MLIT). In January 2022, the company exhibited at CES 2022, the world's largest technology trade show, with a view to expanding business overseas, and was selected as "Reuters' Best of CES 30" and the first Japanese start-up to be selected as "Key Trends at CES 2022".
In addition, SkyDrive agreed with the Japan Civil Aviation Bureau (JCAB) of the MLIT to establish the Certification Basis for Type Certification based on the "JCAB Airworthiness Inspection Manual (AIM)" in March 2022, and has conducted various other activities. Currently, SkyDrive is developing a two-seater vehicle, the SD-05, with the aim of launching an air taxi service in the Osaka Bay area at the time of the Osaka Expo in 2025.
With regard to cargo drones, the company signed an agreement with Toyota City in June 2021 to promote drone utilization and its integration in society, became the first Japanese drone manufacturer to acquire JIS Q 9100:2016 certification for Quality Management System in the aerospace and defense field in November 2021, and began introducing its drones to an electric power company in August 2022 and proceeded with development and integration of secured and safe products in society.
Tomohiro Fukuzawa, Chief Executive Officer at SkyDrive Inc, said: "Since the completion of Round B Financing two years ago, the world has seen a dramatic increase in the movement toward the full-scale realization of new air mobility including business drones, and SkyDrive has also been promoting the full-scale launch of its cargo drone business and the development of its commercial vehicle, the SD-05. We are very grateful for the new financing and the opportunity to announce a capital alliance with those closely involved in our business.
"We are having various discussions with the Kansai Electric Power Company Inc., Kintetsu Group Holdings, Inc. and Resona Group to start business mainly in the Kansai area. We are collaborating with SCSK Corporation on software development, and with Suzuki Motor Corporation on mass production and potential sales in India and other parts of Asia. We are currently studying with Sompo Japan Insurance Inc. and Tokio Marine Holdings, Inc., on insurance to ensure safety and security, and Toyoda Iron Works Co., Ltd., Nippon Kayaku Co., Ltd., and NHK Spring Co., Ltd. are cooperating with us in the development of the entire mobility, with a focus on parts.
"In the field of finance, Sumitomo Mitsui Trust Bank, Limited, and MUFG Bank, Ltd. are supporting us, and Pegasus Tech Ventures, Inc. is helping us as a Venture Capital firm connecting Japan and the rest of the world.
"First, we will use cargo drones to support companies and individuals in their highly hazardous and heavy work, and then, through the launch of air mobility services in 2025, we will create a world in which goods and people can move freely in the sky."