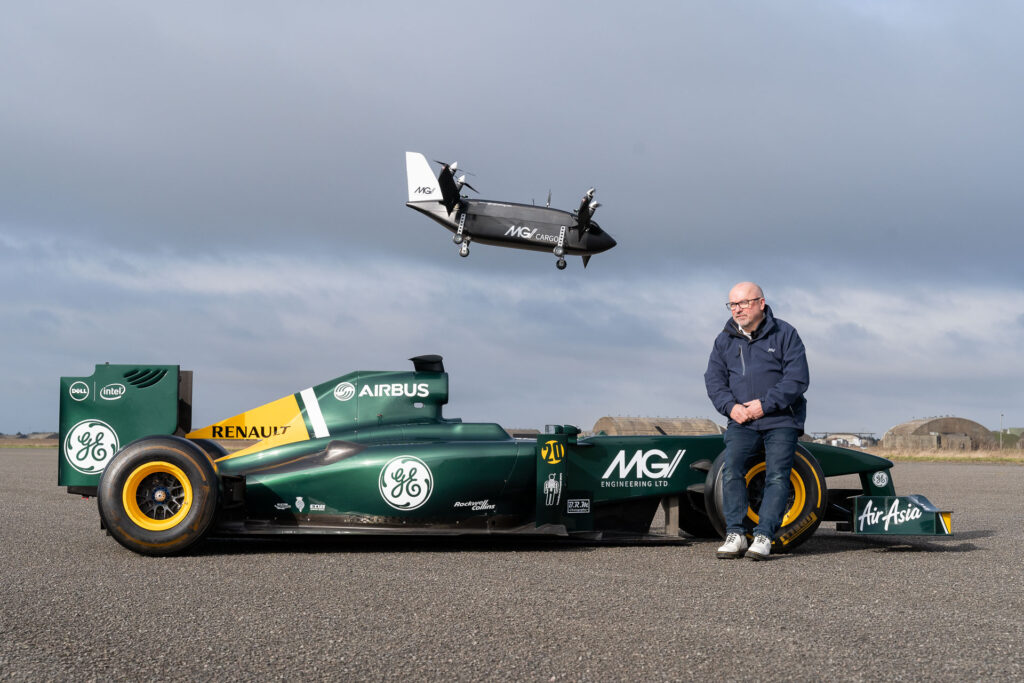 MGI Engineering, founded by Mike Gascoyne, who set up the Lotus F1 team, has launched its cargo eVTOL UAV development program and unveiled a fully functional demonstrator.
Revealed at eVTOL Insights' London Conference 2023, it thrusts the specialist engineering consultancy firm into the newly-emerging cargo eVTOL industry and is expected to bring a fresh viewpoint on how to develop the latest aerospace technology for these novel vehicles.
According to MGI, its applying Formula 1 development philosophies and mindset to the cargo eVTOL UAV market. Lightweight composite structures with a highly-efficient, fast-paced iterative design processes are key elements of the company's approach to tackling the challenges that the cargo eVTOL industry presents and it aims to provide these consultancy services throughout the cargo eVTOL industry.
MGI Engineering has been developing cargo eVTOL technologies for the past year, with the aim to provide these services to the wider industry. This has culminated in its Mosquito autonomous technology demonstrators for cargo applications.
MGI's solution focuses on a configurable design with two variants of its demonstrator technology; the first is a tilt rotor configuration, with two rotors on each corner capable of tilting from 45 degrees in the forward direction to, 45 degrees rearward. The second features eight rotors with direct drive motors distributed across four wings and all four wings use MGI's proprietary tilt mechanism that is used to control pitch and roll. This variant is able to take-off vertically and fully transition to winged flight for long distance missions.
The modular approach to this vehicle, where wings and rotors can be configured according to the mission profile, allows for scalable common platforms using common battery modules to ensure cost performing kilometer-per-mile solutions for cargo delivery. The vehicle platform concept has also been designed to be scaled-up efficiently to payload capable vehicles carrying up to 500kg.
Mike Gascoyne, CEO of MGI Engineering, said: "We are really proud to announce our cargo eVTOL technology demonstrator program at this year's eVTOL Insights' Conference. We believe that developing sustainable electric aviation vehicles combined with our unique expertise and experience from Formula 1 of lightweight hybrid composite vehicles is the future of the transport industry and will ease the strain on current methods whilst decarbonizing multiple sectors. We are very happy to have a fully working demonstrator vehicle that has passed all our tests to date including fully transitioning from vertical to horizontal flight. We're excited to see where our development journey takes us and look forward to solving the unique and novel challenges the industry presents us with."
He added: "We also want to invite clients, partners and investors to join our vision to develop highly efficient cargo UAV solutions. MGI Engineering, as a cargo eVTOL consultancy service, understands in order to bring aerial vehicles successfully to market requires a multi-disciplinary team across multiple industries."