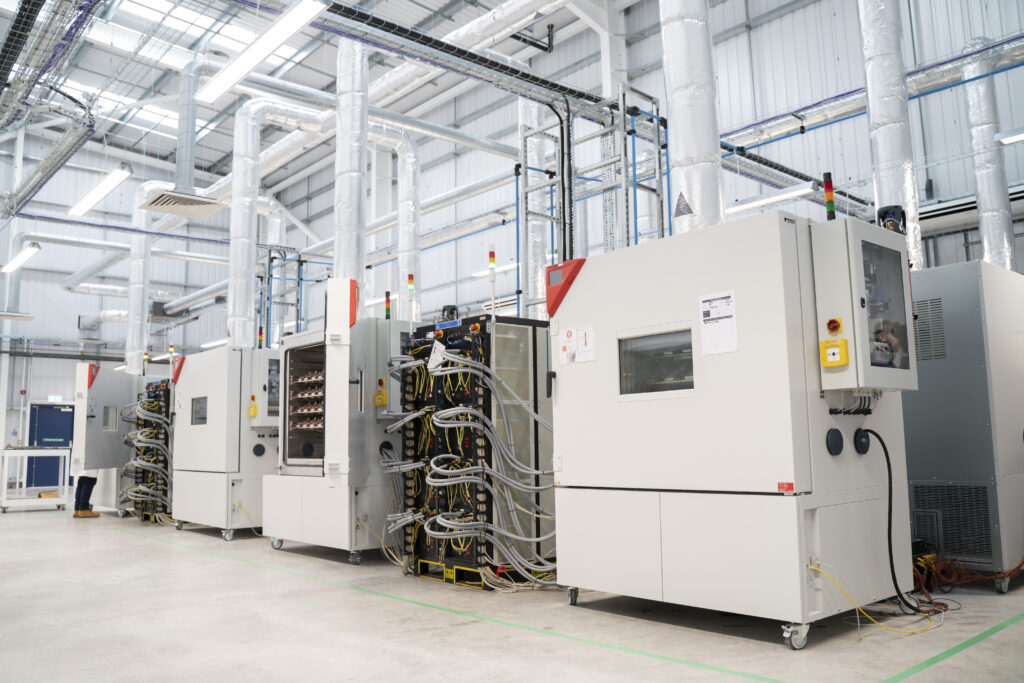 Vertical Aerospace has opened the Vertical Energy Center (VEC), believed to be the UK's most advanced aerospace battery facility.
Based in Bristol, the multi-million-pound state-of-the-art, 15,000 square foot facility, is one of the only dedicated aerospace battery facilities in the UK.
It is home to Vertical's current 50-strong battery team, drawn from the likes of McLaren, the European Space Agency, Jaguar Land Rover, Airbus, Rolls-Royce and Dyson, who are developing proprietary battery technology that is enabling greater power to weight ratios for eVTOL flight. These frontier technologies are expected to transform what has been possible with battery technology to date.
Last year, Vertical announced a strategic partnership with Molicel, which combines Vertical's proprietary battery pack design with Molicel's leading cell technology.
Vertical has already conducted significant cell testing at the VEC for use in battery pack modules. Operational ramp-up of Vertical's battery manufacturing machinery has begun by assembling the first in-house developed prototype battery modules in the facility.
Vertical's battery systems have undergone a wide range of testing, including temperature, conducted emissions, vibration, thermal durability and characterization, propagation and drop testing at the VEC.
Vertical has previously had significant progress with battery tests, having carried out crash and thermal runaway testing under the European Union Aviation Safety Agency and the UK's Civil Aviation Authority supervision.
Vertical's expertise on batteries is recognized by the industry with its Head of Powertrain, Dr Limhi Somerville, chairing the eVTOL EuroCAE electrical certification group, the group that is defining the battery standards for electric aviation with EASA.
Vertical has also developed significant intellectual property around battery design including cell packaging, cooling and electronic battery management systems to deliver high-power, high-performance battery packs capable of powering eVTOL aircraft. Vertical is aiming for entry into service with a 220Wh/kg battery system. This will enable Vertical's VX4 to conduct back-to-back missions, with fast-charging cycles inbetween, and minimized impact on the packs cycle life.
Dr Limhi Somerville, Head of Vertical's powertrain team, said: "Aircraft require high-performing and safer batteries than anything on the market today. This facility and our core technology will unlock this, bringing the reality of electric flight even closer."
Stephen Fitzpatrick, Founder and CEO of Vertical, commented: "Delivering the electric aircraft of the future requires innovation at its best which is why we are championing UK electric battery development. Our world class team in Bristol will be pushing new boundaries to design battery systems fit for electrifying our future."
UK Minister for Investment, Lord Johnson, added: "Vertical's investment in cutting-edge battery technology brings us one step closer to delivering zero-emission flight, a central objective of the Jet Zero Council. Tomorrow's technologies like zero-emissions aviation will not only provide a boost to sustainable growth, but are essential for generating the new, high-quality jobs that will take Britain's economy into the future."
This announcement follows the recent news that Vertical secured £14 million in funding from the Aerospace Technology Institute (ATI) through a joint initiative with the UK government, to further progress the development of its battery technology. The project, in partnership with University College London (UCL), is expected to increase the core capability of Vertical's battery system, improve recycling efficiency, and increase the scope of its use in additional markets.