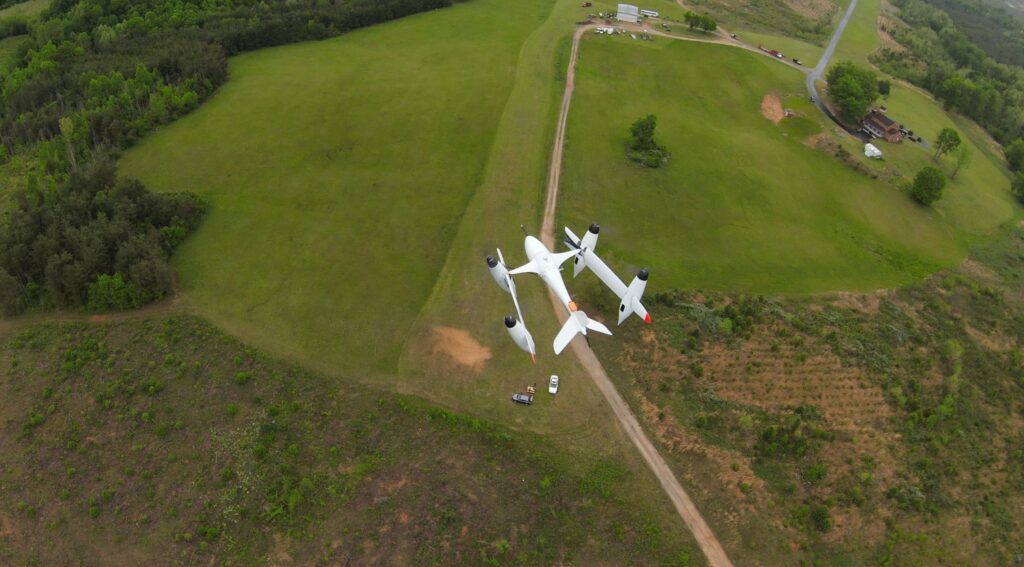 VTOL developer PteroDynamics has closed a $7.5 million seed round that will support plans to develop larger Transwing aircraft variants.
The capital raised is also expected to attract engineering talent, and execute on additional contracts. In addition, the company is looking to adapt their aircraft for additional mission types and enter the commercial sector. The round was co-led by existing investor Kairos Ventures and new investors Lavrock Ventures and CS Venture Opportunities Fund.
PteroDynamics has developed a patented design for VTOL aircraft called Transwing that folds/unfolds its wings during flight to transition between rotor wing or fixed wing configurations. The result of this design is that Transwing aircraft have a smaller ground footprint while being able to fly farther, faster, longer, and/or carry heavier payloads than other VTOL aircraft of a similar size and weight. This is believed to be critical for everything from drone delivery to air taxis with extensive government, defense, industrial, and commercial applications.
"The superior capabilities of our Transwing aircraft platform for certain missions offers significant defense and commercial applicability," said Matthew Graczyk, CEO and Board Director of PteroDynamics. "Our goal is clear: we want to be the established leader in VTOL aircraft for long-range and long-endurance missions in both the defense and commercial sectors. This investment will accelerate our ability to execute on that goal."
"This is an exciting milestone for us," commented Dr. Val Petrov, Founder and Chairman. "We look forward to our continued partnership with Kairos, who advances us in our shared mission of transforming industries, along with our new investors Lavrock and CS, to bring innovation that will expand the applications of our Transwing aircraft."
"Kairos Ventures invests in technologies with the potential to change entire industries, and we believe that PteroDynamics is doing just that in the aviation industry with its breakthrough Transwing design," said Todd Thomson, Chief Operating and Financial Officer of Kairos Ventures. "As long-standing supporters of PteroDynamics, we are thrilled to welcome Lavrock Ventures and CS Opportunities Fund alongside Kairos as co-leads in PteroDynamics' Seed round and are looking forward to supporting the next exciting phase of growth."
Jim Hunt, Managing Partner at Lavrock, commented: "We are excited to invest in PteroDynamics and very happy to co-lead the round."
"CS Venture Opportunities Fund is delighted to partner with PteroDynamics, Kairos and Lavrock with this investment," added Quinten Stevens, General Partner. "We invest in transformative technologies and believe the company's Transwing VTOL aircraft technology is fundamentally changing VTOLs capabilities with its unique configuration that has numerous applications in both the defense and commercial markets."
The company has secured an Other Transaction Authority (OTA) contract with the US Navy's Naval Warfare Center Aircraft Division (NAWCAD) to supply three Transwing aircraft for its Blue Water Maritime Logistics UAS program. Additionally, the company has been awarded four SBIR/STTR contracts with the Air Force and has formal teaming's and has sold multiple Transwing aircraft for test and evaluation for various US defense contractors.