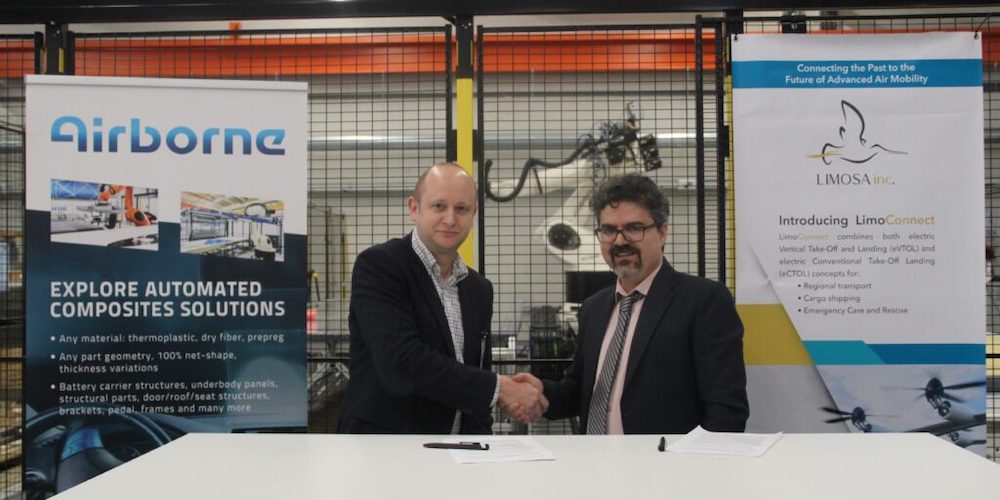 Limosa Inc. is partnering with Airborne for the production of the Limosa LimoConnect aircraft prototype airframe in parallel to designing automated manufacturing lines and supporting Limosa's industrialization from prototype through to serial production. 
With this collaborative approach, the partners are aiming for the fast ramp up of the Limosa airframe production and ensure both trade-offs and development will be able to meet the pressing timescales of OEM.
Limosa aims to revolutionize air taxi transportation through the development of the LimoConnect all-electric, 1+7 seater Vertical and Conventional Take-off and Landing (eVTOL + eCTOL) aircraft.
According to Limosa, the strength of LimoConnect is its flexibility to adopt different mission capabilities as well as the capability of take-off and land conventionally so that it can use available airports before needing the emergence and certification of new vertiport infrastructures.
The type certification of LimoConnect under regulations of Transport Canada Civil Aviation (TCCA) and entry into service is planned for 2028.
Airborne believes it has a unique capability set that covers the entire product development cycle for composite structures to bring to the partnership with Limosa, from initial feasibility through to serial automated production and the supply of digital manufacturing equipment.
These capabilities include design, tooling, stress analysis, prototype production and process development, economic analysis, automation and software development.
"Design for manufacturability and serviceability is the core mission at Limosa," said Limosa Inc. founder and CEO, Dr. Hamid Hamidi. "The production rate of these new technology vehicles will sit somewhere between automotive and aerospace industry products, so I believe the integration of automated composite manufacturing will be a game changer. I am very proud and excited by this partnership between Limosa and Airborne and I believe that combined automated composite manufacturing capability of Airborne will enable Limosa to mass produce the composite airframe structure by having the environmental issues, such as waste reduction and recyclability in mind since the very beginning."
Airborne Business Development Manager, responsible for AAM, Jamie Snudden, added: "The production rates and technical requirements that are being suggested for AAM are different to any markets that have come before, and therefore a new approach to automation is needed. There also needs to be a highly collaborative approach taken between design and industrialization functions to ensure trade-offs are fully reviewed and development occurs rapidly to reach the timescales being suggested by OEMs. I'm very excited by this collaboration between Airborne and Limosa, who is taking a long term and innovative view for the development of the LimoConnect. Airborne are looking forward to supporting Limosa in bringing about their vision."