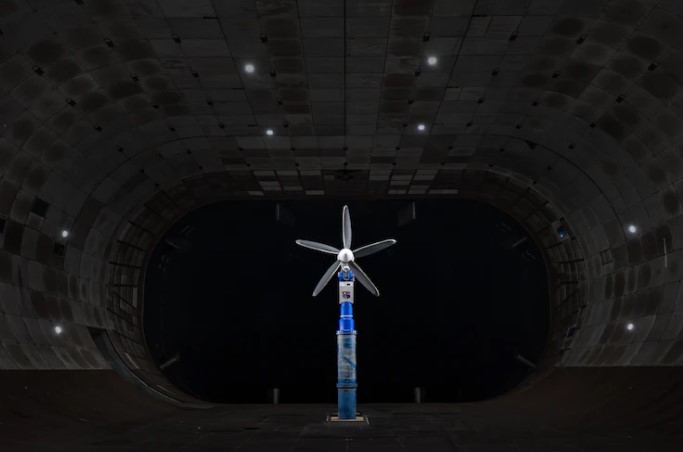 Joby Aviation has begun testing the propeller for its electric vertical take-off and landing (eVTOL) aircraft at the National Full-Scale Aerodynamic Complex (NFAC) at NASA's Ames Research Center in California's Silicon Valley.
Believed to be the world's largest wind tunnel facility, Joby is the first eVTOL company to test its propeller in NFAC's 40-by-80 foot tunnel.
Data from propeller testing in the NFAC was said to be instrumental in the development of a range of iconic vehicles, including the space shuttle, the V-22 Osprey, the F-35 Joint Strike Fighter, and a number of next-generation helicopters.
JoeBen Bevirt, Founder and CEO of Joby, said: "Testing is a critical part of our aircraft program and the opportunity to gather data on the performance of our propellers in one of the world's largest wind tunnels is an exciting step toward commercialization."
He added: "This facility helped introduce historic aircraft to the world, and now it's doing the same for the next generation of sustainable aviation."
Lt Col Tom Meagher, Lead for AFWERX Prime programs, commented: "A cornerstone of the AFWERX Agility Prime program is fostering interagency partnerships and collaboration to progress the advanced air mobility segment. The NFAC testing is a perfect example of utilizing unique government test resources and infrastructure critical to enabling industry progression."
The test campaign will cover all tilt angles and speeds through the expected flight envelope, providing Joby with consistent and high-fidelity data on the performance, loads, and acoustics of its propeller systems in support of its certification program with the Federal Aviation Administration (FAA).
Working in partnership with the US Air Force and NASA, Joby is installing a production-intent electric propulsion unit and propeller assembly in the wind tunnel mounted to a six-degree-of-freedom force and moment balance to capture performance data. The blades are instrumented to measure the loads experienced while rotating, and a representative wing section of the Joby aircraft allows careful analysis of aerodynamic interference effects.
According to Joby, the NFAC propeller test campaign is expected to produce data of unparalleled quality, exceeding what is captured during normal flight testing, due to superior instrumentation and precise control of variables. The full test campaign is expected to take several months to complete.
More than 1,000 test flights are believed to have been completed of Joby's piloted, all-electric aircraft, designed to offer a faster and quieter method of aerial transportation across cities and communities with zero operating emissions. Joby expects to launch commercial aerial ridesharing service to the United States in 2025.