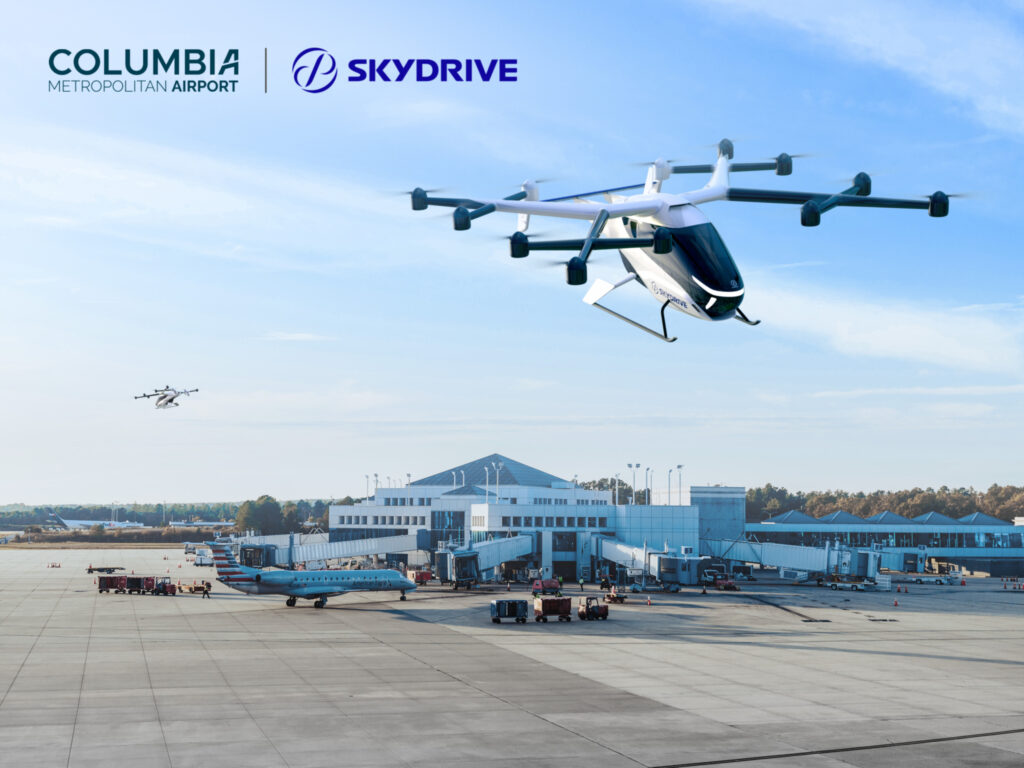 Japanese eVTOL manufacturer SkyDrive has announced plans to enter the U.S. market with the establishment of a home base in South Carolina.
SkyDrive further outlined plans to develop an Advanced Air Mobility (AAM) ecosystem in South Carolina while focusing on building a variety of practical use cases originating from two of its key airports in cooperation with local and state government agencies.
SkyDrive was first invited to South Carolina in July 2022 by the Beaufort County Economic Development Corporation (BCEDC). With the BCEDC's support, the company has been exploring market opportunities within the state and building a network of key stakeholders. SkyDrive's focus has been on working with South Carolina to study practical use cases originating from several of its major airports utilizing the manufacturers eVTOL aircraft, the SD-05.
As a result of this activity, SkyDrive has decided to form a business infrastructure within the state and to work with South Carolina in realizing an advanced air mobility ecosystem which will bring the state to the forefront in its ability to support the commercial operations of eVTOL aircraft.
According to SkyDrive, South Carolina is an ideal location to establish its base of U.S. operations as it has a mild climate throughout the year, abundant tourism, and airports close to city centers, making it a good fit for the utilization of SkyDrive's SD-05 eVTOL aircraft.
Harry M. Lightsey III, Secretary of Commerce at State of South Carolina Department of Commerce, said: "The future of advanced manufacturing, aerospace, and vehicle industries is here, and South Carolina is proud to welcome SkyDrive, an industry innovator, to our rapidly growing aerospace cluster. SkyDrive's advanced electric propulsion technology and sustainable transportation implications are the perfect fit for South Carolina's business roster and the state's growing business development goals. South Carolina extends a warm welcome to SkyDrive and we look forward to supporting the company on its journey to continued growth and success."
Frank Murray, Director of Planning & Facilities at Columbia Metropolitan Airport (CAE), commented: "CAE is very excited about the new possibilities being created in the environmentally friendly advanced air mobility industry and its potential to make a positive impact on our local community and beyond. CAE is making a concerted effort to contribute to this development by teaming with SkyDrive to model an FAA compliant advanced air mobility ecosystem with infrastructure requirements based on use cases for flights originating from our airport. CAE is really looking forward to working with SkyDrive and pioneering new possibilities together as we share a common vision of taking the lead in this once in a century mobility revolution."
James D. Stephens, C.M., Airport Director at Greenville Downtown Airport, added: "Greenville Downtown Airport is partnered with SkyDrive to assist with the modeling of an FAA compliant AAM ecosystem that will serve our local region and state. We've done so because the airport needs to know what the infrastructure developmental needs will be in the future. We believe that the impact of advanced air mobility in Greenville will create a new form of transportation that eventually becomes part of the normal transportation processes within our community and around the world."
SkyDrive will continue to work with South Carolina in building a fully developed, operational ecosystem incorporating use cases originating from several of their airports and to form partnerships with local flight operators and beyond so that they can commence commercial operations in 2026. SkyDrive will also be working on the applications and procedures before launching services in the U.S. market.