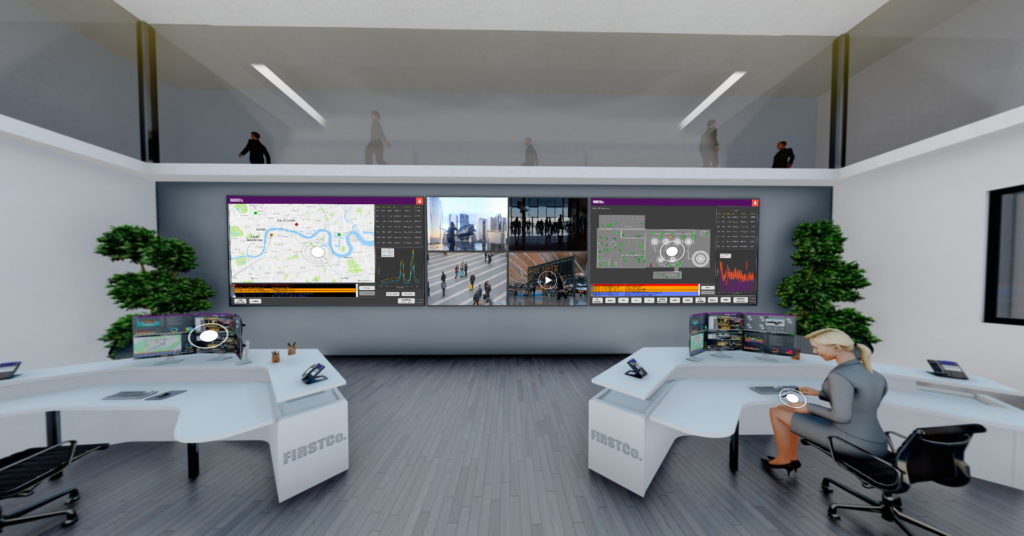 Plans have been unveiled for a vertiport control room with software that will enable remote control and monitoring of multiple vertiports from a single platform.
A Vertiport Management System is being developed by UK-based Firstco, a company that integrates control room appliances for the transportation sector, including at Heathrow Airport, London Stansted, and London Underground.
The geographically disbursed nature of vertiports means a fresh approach will need to be taken to vertiport design, operations, and maintenance. According to Firstco, the economics of a typical vertiport will not be able to support on site Operations and Maintenance (O&M) services strategy often found at airports, and will need to rely on remote control and monitoring of its systems from a centralised operations room that supervises multiple vertiports.
Firstco believes vertiports will act much like a rail network in terms of size, operation, scheduling and lessons can be learnt from both sectors to develop an optimal solution bespoke for vertiport needs. The company has been tackling the challenge from two fronts:
By designing scalable back-end control and monitoring systems suitable for vertiports of different sizes. These are built around commercial off the shelf technology and to be interoperable with different front of house devices such as security and passenger information systems.
By developing a centralised Vertiport Management System that enables the remote control and monitoring of multiple vertiports from a single centralised platform.
Aaron Erwin, Systems Engineer with Firstco, commented: "We believe that the typical vertiport business case cannot support on site services often found at airports, instead, vertiports will need operations like that of rail stations. They will need to rely on remote control and monitoring of their infrastructure systems from a centralised operations room that supervises multiple vertiports."