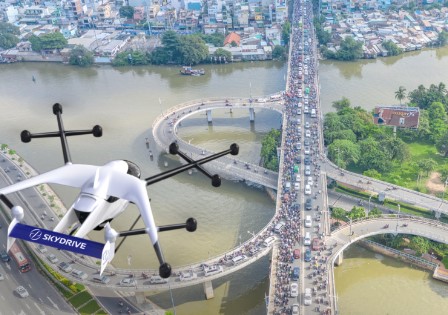 Japanese eVTOL manufacturer SkyDrive Inc. has received an order from renewable energy company Pacific Group Co Ltd for a fleet of eVTOL aircraft. The two companies have signed a Memorandum of Understanding and agreed on a pre-order of 10 SD-05s and a conditional pre-order option of up to 90 flying vehicles.
According to SkyDrive, Pacific Group has also agreed to explore sustainable and easily accessible new mobility solutions, focused on the use case of its SD-05 electric-powered aircraft, in the Vietnamese market.
As well as its electric power, the SD-05 is operated by driver-pilot with the assistance of a computer-controlled flight system and has vertical take-off and landing capabilities.
SkyDrive and Pacific Group will collaborate to evaluate the potential use cases by exploring the requirements for eVTOL vehicle operations in Vietnam. They will also evaluate other commercial considerations such as vertiports, route and network planning, infrastructure requirements, and ecosystems with interested players who can play a role in launching new mobility solutions in Vietnam.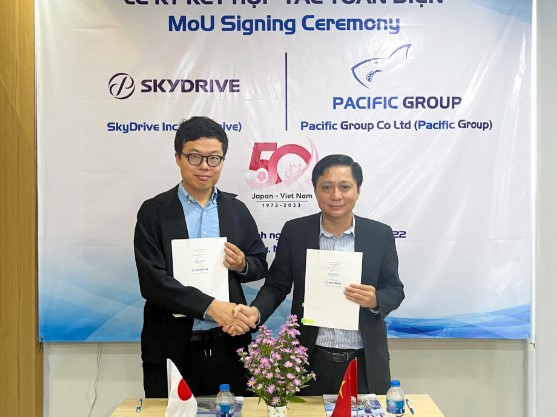 "The urban streets in Vietnam, crowded with motorcycles and automotives are vibrant and exciting. However, considering the current social problem of traffic safety and greenhouse gas emissions, I think this is one of the most important social issues that need to be addressed. The number of motorcycles and automotives is only increasing, and it takes time to develop roads and parking lots. We would be happy to contribute to solving Vietnam's social issues by providing eVTOLs, a means of transportation using the sky, as one of the country's new transportation infrastructures," said SkyDrive CEO Tomohiro Fukuzawa. "Working with such a respected Vietnamese company with a wide variety of business networks within the country, SkyDrive expects to accelerate its ability to enter the Vietnamese market. Together with Pacific Group, we look to offer the Vietnamese community and market a new way to move around and a new way to enjoy air travel within the country."
Le Ngoc Anh Minh, the Executive President and Founder of Pacific Group, said: "The Vietnam Government committed at COP26 to go net-zero by 2050. Several companies and localities in Vietnam believe zero-emission energy consumption and the zero-emission transportation is a must in the coming time. On the other hand, we can foresee the need of eVTOL in big cities in Asia e.g., Ho Chi Minh city, Hanoi to provide a new generation of transportation means. Of course, we will have to work closely with SkyDrive and several authorities such as the Vietnam Transport Ministry, Civil Aviation Agency of Vietnam, and the Vietnam Ministry of Defense. There are many hurdles of transport facilities and regulation and also perception of the community in the time to come but we shall work together with SkyDrive to solve each from time to time. Next year will mark the 50th year anniversary of Vietnam and Japan diplomatic relation and we really hope to create several activities with SkyDrive to promote this eVTOL not only for our business but also for contribution to the two nation's scientific and friendship collaboration."
SkyDrive is in the process of acquiring a certificate for the SD-05 from the Ministry of Land, Infrastructure, Transport and Tourism (MLIT), believed to be first of its kind in Japan.