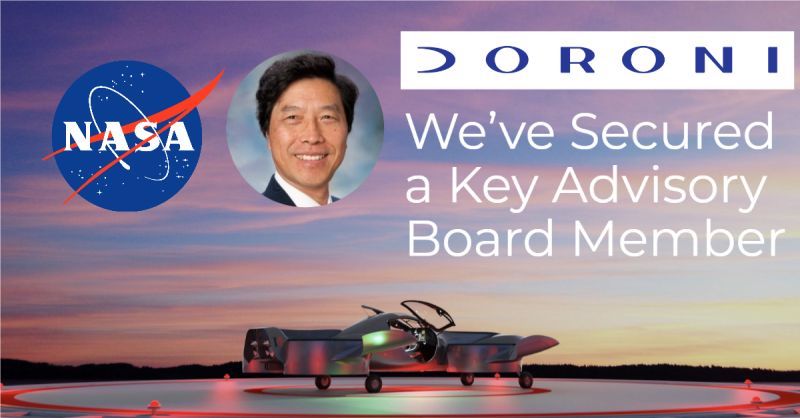 Doroni Aerospace, Inc. has announced that International Vehicle Research, Inc. president Johnny Doo has joined the company as an advisory board member, focusing on autonomous eVTOL aircraft for 'Mission-for-Good' applications.
Mr. Doo is the Group Lead of the NASA/Vertical Flight Society (VFS) Transformative Vertical Flight (TVF) Working Group 4 – Public Services, teaming with over 100 industry leaders and experts to develop the roadmap and use-cases for Advanced Air Mobility and eVTOL-enabled search & rescue, firefighting, disaster relief, emergency/humanitarian response, law enforcement, medical transport, and military operations.
He is also the lead author of the "NASA Electric Vertical Takeoff and Landing (eVTOL) Aircraft Technology for Public Services" white paper, and has over 30 years of experience managing and developing crewed and uncrewed aviation products, including high-performance piston aircraft, personal and business jets, regional aircraft, new-generation aviation engines, and unmanned aerial vehicles.
His expertise includes engineering, product design, advanced technology, program management, MRO & flight training, marketing & business development, and many years of executive-level responsibilities.
Doroni believes Johnny Doo's experience managing and developing crewed and uncrewed aerial vehicles will enable the company to achieve its goal of democratizing the power of flight by delivering transformative eVTOL technology directly to consumers.
By offering the public a safety-centric mobility option, Doroni hopes to enable people to transport themselves within urban environments and between cities at a fraction of the time possible with traditional automobiles. The company, which has raised over $1.69 million in investments from a community of over 1,265 investors via equity crowdfunding, envisions its eVTOLs serving as one of the primary clean transportation solutions for individuals, families, first responders, law enforcement, and the military.
Doroni aims to disrupt the personal mobility market with the introduction of the Doroni H1 two seater personal eVTOL, the company's go-to-market vehicle. According to Doroni, it is on track to begin flight testing by Q4 2022, with plans to secure FAA certification and launch commercially in the second half of 2024.
The Doroni H1 will be made available for public purchase (with an estimated starting retail price of $195K) which anyone can own, fly, and park in a standard two car garage. Customers will need a current valid driver's license and completion of a 20-hour training course provided by the company.
The H1 was designed with an intuitive, easy-to-use aircraft control system for the H1 based on an auto-stabilizing, multi-rotor aircraft with four axes of movement. Its unique, patent-pending design and aerodynamic features combine the best elements of a drone and aircraft to deliver ease of use and quick deployment. Combined with the H1's propulsion system, Doroni believes the H1 will be an agile vehicle capable of accomplishing a variety of tasks across several target markets.
According to Doroni, every safety consideration possible has been baked into the design and nature of the Doroni H1 eVTOL. From its inception with the Y6 and X8 prototypes that came before it, the Doroni H1 was designed to maximize safety and will undergo exhaustive multi-level quality control.
As a flying vehicle capable of landing in a front yard or parking in a standard two car garage, in areas near families and children at play—ducted propellers are essential. Doroni believes this aesthetically pleasing, patent-pending design sets the Doroni H1 apart from its competitors and greatly increases overall safety, while also enabling a higher thrust efficiency and greatly reduced noise levels.
The Doroni H1 evTOL will also be equipped with airframe parachutes and a variety of sensors, including 360° anti-collision sensors, lidar, barometer, and an Optic Flow camera which helps the aircraft maintain its altitude and position in windy conditions. This is in addition to a variety of other safety features, namely:
Multiple redundancy batteries
Emergency airbags
Increased lift and stability
Ten independent propulsion systems
Energy dissipating landing gear
An energy dissipating body
To date, Doroni has received over 200 pre-order inquiries for the 36 total units available at launch that can be secured with a $10K deposit.
Doroni projects to have a full-scale, fully-functional flying H1 eVTOL prototype completed by Q4 2022 and is targeting a Light Sport Aircraft certification with the FAA ahead of product launch in the second half of 2024. Doroni also intends on growing its current intellectual property to include 15+ design, aerodynamic, and battery utility patents by Q1 2023.