Asian eVTOL developer XPENG AEROHT has conducted the first flight of its XPENG X2 electric flying car in Dubai.
It the first public display of the X2 since the company completed the specific operations risk assessment and achieved a special flying permit from the Dubai Civil Aviation Authority (DCAA).
This first flight was witnessed by over 150 attendees, including representatives from the Chinese Consulate in Dubai, the Dubai International Chamber of Commerce, the DCAA, the Dubai Department of Economy and Tourism, the Dubai World Trade Centre and global media.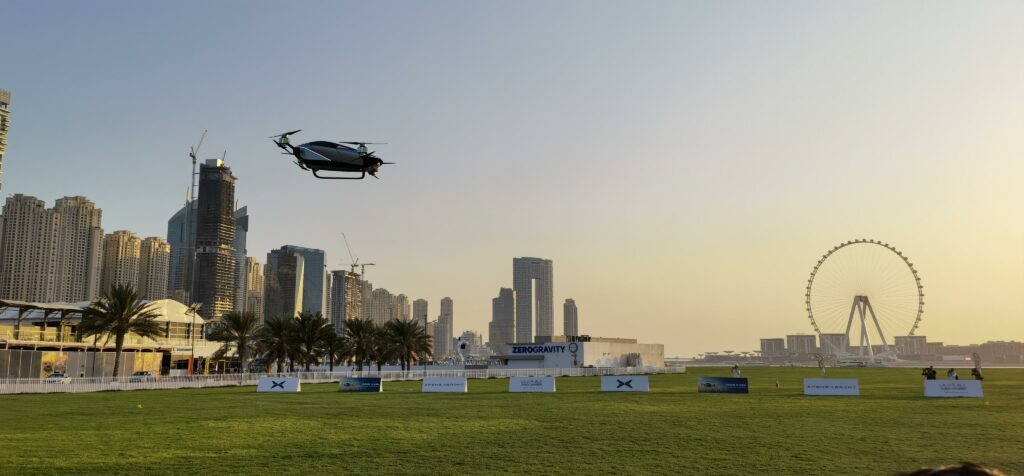 The flight took place at Skydive Dubai, located adjacent to The Palm, offering excellent airspace conditions and panoramic views of the cityscape to provide the historic flight with a breathtaking backdrop. It followed a keynote introduction to the X2 and the Future of Mobility by Vice Chairman and President of XPENG, Brian Gu, on the opening day of GITEX at the Dubai World Trade Centre.
Brian Gu, Vice Chairman and President of XPENG, commented: "XPENG X2's public display in Dubai represents a significant milestone for XPENG AEROHT and the international achievement of flying cars. Dubai is a world-renowned 'City of Innovation', which is the reason we decided to hold the X2 first public flight event here. Today's flight is a major step in XPENG's exploration of future mobility."
The X2's first public flight was highly supported by the Dubai International Chamber of Commerce. The Dubai Chamber has been deeply involved in the whole process since the launch of the project, providing strategic consulting to XPENG AEROHT. Acting President and CEO Hassan Al Hashemi attended the event and cited in his speech: "The first global public flight of the X2 flying car will change the game of future mobility. The flying car is the epitome of ambition, innovation and future-oriented vision that has always inspired Dubai and its leadership. Today, we witnessed a historic moment that will define the next 50 years."