eVTOL aircraft developer SkyDrive Inc. has unveiled the design of its commercial model eVTOL — the SkyDrive SD-05. The SD-05 is a two-seat, electric-powered compact aircraft with vertical takeoff and landing capabilities, designed to travel up to 10 km with a maximum cruise speed of 100 km/h.
Operated by a driver-pilot, its flight stability is secured with the assistance of a computer-controlled flight system. The aerodynamically advanced airframe design features both horizontal and vertical tails for added stability in flight. At the top corners of the airframe, 12 motor-propeller units are positioned for flight stability.
SkyDrive is planning to use the SD-05, currently in development, to launch air taxi service in the Osaka Bay area during the world exposition scheduled for 2025 in Osaka, Japan.
"This is another big step towards the realization of flying cars and sky roads," said Takumi Yamamoto, SkyDrive design director. "Two years have passed since the announcement of the SD-03, which successfully completed its public manned flight test in August 2020, and we are very happy to be able to announce its successor, the SD-05."
"This vehicle is not just a simple means of traveling from point A to B. Based on the design concept of 'giving wings to daily travel,' it's also a safer and more enjoyable travel partner."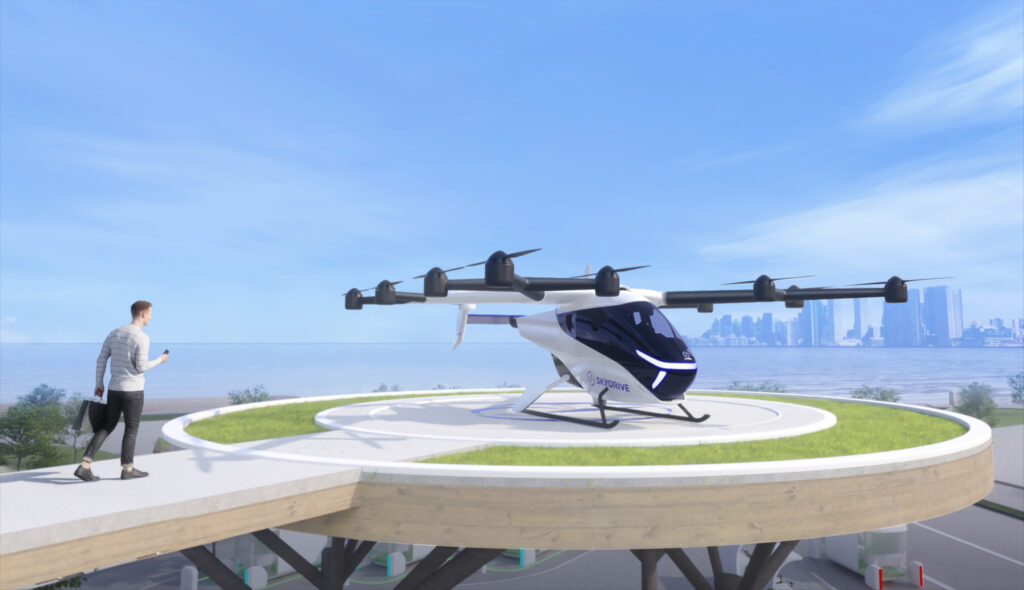 SkyDrive is in the process of acquiring a type certificate for the SD-05 from the Ministry of Land, Infrastructure, Transport and Tourism (MLIT), as the first of its kind in Japan. The company continues to work toward initiating practical use of flying cars during the World Exposition Osaka, Kansai scheduled for 2025 in Japan.