Doroni Aerospace, Inc. has announced the launch of pre-orders for the Doroni H1 personal eVTOL (electric vertical takeoff and landing vehicle).
Doroni plans to accept 36 pre-order reservations in the first year of production following product launch in Q4 2024, scaling slowly in order to ensure the highest level of quality and safety possible. Doroni test pilot Charles Boyd will serve as the company's representative and guide customers through the entire process—from securing a reservation after submitting an application to their very first flight.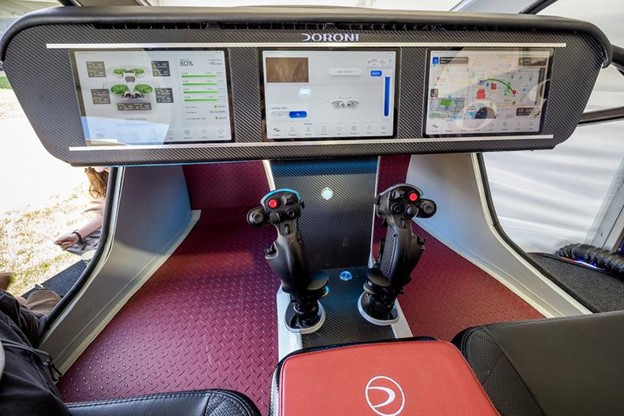 Doroni recently launched their second crowdfunding raise on the equity crowdfunding platform StartEngine.com and to date has raised $331K+ from over 235 investors. The company previously closed their first Reg CF raise on StartEngine in April after officially raising $1,069,850.
Doroni Aerospace recently participated in EAA AirVenture Oshkosh 2022, where the company revealed the Doroni H1's completed cockpit as well as an immersive Virtual Reality VR Flight Experience.
For the first time ever the general public was able to step inside of the fully complete H1 Cockpit, strapping in to take command of the H1's control sticks, and experience the next-level sophistication of the H1's Dashboard Flight & Navigation System. Using VR headsets, EAA AirVenture participants were able to sit inside the completed H1 cockpit and simulate the experience of takeoff, flight, and landing the Doroni H1 personal eVTOL.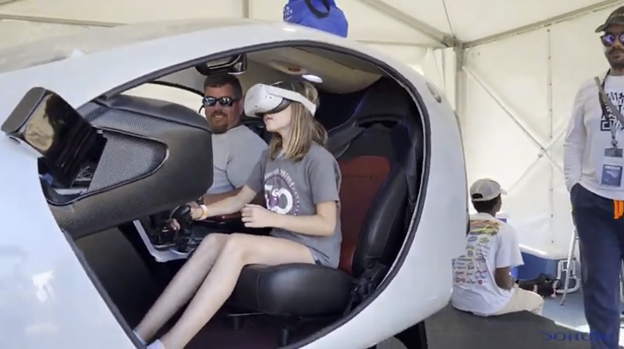 Doroni believes that when paired together in this way, the H1 cockpit interior and VR Flight Experience provide the closest approximation to what it will be like to fly the completed Doroni H1 eVTOL when it's projected to launch in Q4 2024.