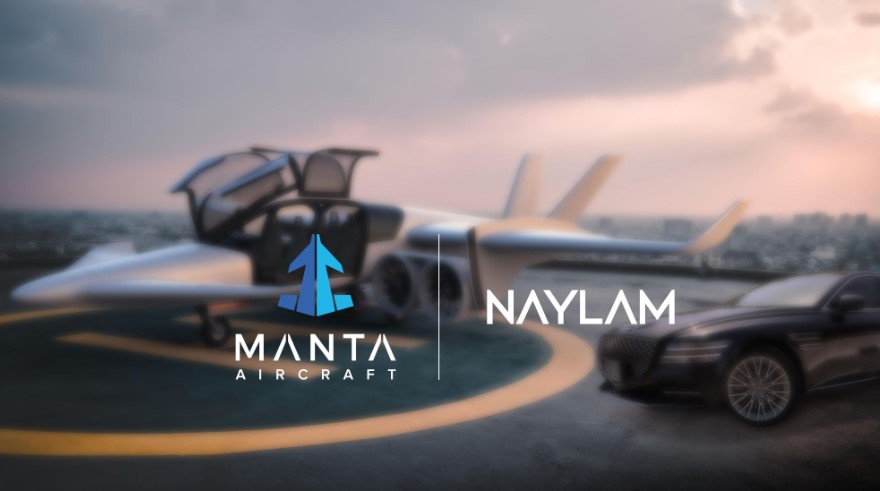 Naylam, a VIP chauffeur service, is planning to add VTOL/STOL aircraft to its transport options following an agreement with Manta to purchase 10 ANN hybrid-electric air taxis.
The agreement includes the joint development of the specific business cases as well as the launch of operation with a fleet of 10 multi-seat ANNTM aircraft in regions where Naylam currently operates ground transportation. Deliveries are expected to begin in 2026/2027.
Manta believes key factors in the decision include the long-range performance offered by the ANNTM platform in regional operations, low total cost of ownership (TCO), flexible use as eVTOL (vertical take-off and landing) or STOL (short take-off and landing), as well as the minimal or nil infrastructure requirements. According to Manta, the ANNTM platform enables speeds, reliable, and safe connectivity to areas that are difficult to reach or negated by road congestion.
Saeed Kashkash, Chairman of Naylam, said: "As a fast growing specialist in Luxury VIP Chauffeur Service, we constantly aspire to pioneer in products and services fulfilling tomorrow's mobility needs. Following the industry development, Manta Aircraft platform has been carefully selected for our operations due to its performance in terms of long range and flexible configuration of the cabin layout. These are decisive advantages and necessities in order to offer tailor-made solutions to our customers, such as airport pickup and transfer to a holiday resort several hundreds of kilometers away, and having the aircraft immediately available for a new pick-up without need of long ground stops to recharge batteries and other burdens."
Manta Aircraft CEO Lucas Marchesini added: "Following the agreement in the utility service field with the smaller ANN2 for organs transportation, winning a first partner for the large multi-seater platform confirms the business potential of the path we took two years ago: i.e. regional and inter-regional connections. The range of several hundred kilometers, the high cruise speed with low TCO and other advantages such as the independence from complex ground infrastructure, also represent a solution with unique advantages for Business Aviation."